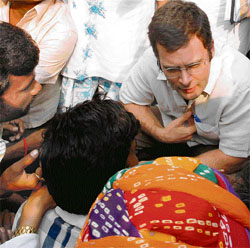 Congress general secretary Rahul Gandhi meets a group of people from Rajasthan during the janta darbar at the Congress head office in New Delhi on Tuesday. — Tribune photo by Mukesh Aggarwal
PM to leave for Moscow on November 11
New Delhi, November 6
The ministry of external affairs today took a rather unique step of announcing the Prime Minister's forthcoming visit to Russia (November 11-13) through a press release, rather than a standard press briefing by the foreign secretary or secretary (west) in the ministry.
Immigration
Canada expands services
New Delhi, November 6
Indian immigrants to Canada will now be able to negotiate better jobs and pay packets commensurate with their skills.
Petition filed against Bachchan
Lucknow, November 6
A petition was filed before the Lucknow Bench of the Allahabad High Court against Bollywood megastar Amitabh Bachchan for his TV advertisements during the state Assembly elections, claiming crime rate in Uttar Pradesh was much less compared to the other states.
'Multi-party polity helps inclusiveness'
New Delhi, November 6
A multi-party federal political system, which is accommodative to regional and sectional identities, helps in ensuring inclusiveness, renowned economist Lord Meghnad Desai said here today.
Uma's party suffers setback, 3 join BJP
Bhopal, November 6
In a major blow to Uma Bharti's Bhartiya Janshakti Party (BJS), its three top leaders, including Madhya Pradesh party chief Raghunandan Sharma, today quit the party and join BJP, their parent outfit. Their decision came close on the heels of the party's miserable performance in the Lanji Assembly bypolls.
Attack on scribes: Builder remanded
Patna, November 6
Mukesh Singh, one of the main accused in last Thursday's attack on journalists by ruling JD-U MLA Anant Singh and his men, was remanded to judicial custody for 13 days today.
Police Recruitment Scam
Ruckus in UP Assembly
Lucknow, November 6
Samajwadi Party members today created pandemonium in the Uttar Pradesh Assembly demanding immediate reinstatement of over 17,000 dismissed police constables by the Mayawati government in the state.
Minister resigns over girl's kidnapping
Lucknow, November 6
In a major setback to the Mayawati government, Food Processing Minister Anand Sen Yadav resigned today following allegations of his involvement in the disappearance and subsequent death under mysterious circumstances of a 22-year old woman, Shashi, who was a Dalit law student of Faizabad.
Pay fixation after due diligence cannot be challenged: SC
New Delhi, November 6
The Supreme Court has held that the doctrine of "equal pay for equal work" is applicable only among persons similarly situated in all respects and scales fixed after due diligence cannot be challenged.
Justice Sodhi: Bofors case was toughest
New Delhi, November 6
Justice R.S. Sodhi of the Delhi High Court, who in recent times emerged as a strong judge as was evident from his ruling in high-profile cases like Priyadarshani Mattoo and Jessica Lal murders resulting in conviction of let-off accused, said today that politically sensitive Bofors case was the "toughest" for him to handle.
Marriage party assaulted over dowry demand
Meerut, November 6
Villagers, infuriated over a dowry demand by the father of two grooms getting married to two sisters here, held the marriage party captive and fired at police who intervened, killing a constable and injuring six others.



Videos
Mumbai police on alert ahead of Diwali.
(56k)
Railways to go high-tech.
(56k)
Spreading light amidst darkness.
(56k)
Paswan's son in Bollywood.
(56k)