Khaki On Duty
They are all out to ensure a safe Divali
Jalandhar, November 8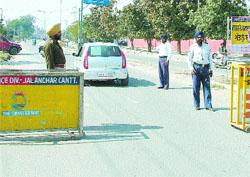 When we will be busy performing pooja and bursting firecrackers with our family members at our home on Friday, the policemen will have to remain away from their families to ensure a safe Divali for us. Not only the policemen, but the firemen as well as the doctors will be ready to meet any eventuality.




Cops keep a strict vigil. — Photo BY S.S. Chopra
Market slump bothers cracker traders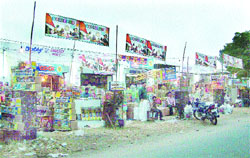 Jalandhar, November 8
Environmentalists have finally had a bit of their way, it seems. The amount of cracks and booms of the beloved firecrackers have visibly decreased. In the previous years the crack -bam-boom-tadak rituals started way before Divali but this year they have just been restricted to the days when India won a cricket tournament or just a few days before Divali.

Cracker shops in Burlton Park.
Magic On Wheels
DAV students create bike for better uphill hike
Jalandhar, November 8
Mechanical engineering students of the DAV Institute of Engineering and Technology have designed a two-wheel drive bike, a deviation from the normal rear-wheel drive bike.
Taking home bag full of cheers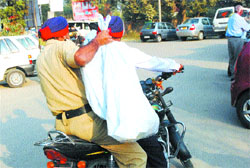 Policemen return home with a bag of crackers and gifts on the eve of Divali. — Tribune photo by Pawan Sharma
National educational institutes on anvil
Jalandhar, November 8
Prof D.P. Aggarwal, member Union Public Service Commission, delivered a lecture on the topic of "Changing business scenario and role of education - A perspective for youth" at the Dr B.R. Ambedkar National Institute of Technology. Aggarwal is an expert in high technology areas such as information technology, space, biotechnology and pharmaceuticals.



Roshni for all lights no sound
Jalandhar, November 8

"Who are you worshipping with your eyes shut?", it was this line from Rabindra Nath Tagore's 'Geetanjali' which led him to open his eyes and try and see the good and the bad that he was surrounded with, to make the world a better place. 'Love thy neighbour as thou love thyself', says the Bible and Father Thomas K.J. is one of those few people who does it in the real sense of the word.
The members of the Roshni Society along with APJ School students at the Sacred Heart church.
Traffic chaos
Readers, write in