'I'm awestruck by fan following'
Aman Minhas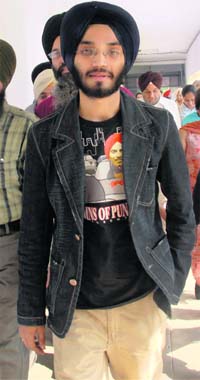 Ishmeet Singh
Numerous rounds of applause, chants of 'Ishmeet we love you, Ishmeet jeetega' slogans and excited shouts from girl fans greeted us at the auditorium of Guru Gobind Singh College For Women, where one and all waited for Ishmeet Singh. One of the top four contestants of Amul Star Voice Of India, the shy singing sensation came to the city last week for a quick tête-à-tête with college students and combined it with a campaign for public support.
A warm welcome for apna Punjabi munda from Ludhiana was followed by a request from his paternal uncle to his fans to send at least 60 votes each for the star. Next, came an announcement by the CEO of Data Wind, a Canadian wireless Internet manufacturer, that Ishmeet will be their brand ambassador and promote their products in India, Canada and UK amongst other places. And then came the much-awaited moment arrived - Ishmeet on the stage.
And the singer, who confesses that he is still trying to come to terms with his fan following, began by thanking one and all for their support. And then he could definitely not finish without a song. Well, he pleased the excited girls (who by the way were busy capturing him in their cells) with Doli mein bithake from Saawariyaa and Mauja hi mauja from Jab We Met.
What followed was, a frenzy. Girls pulling and pushing for autographs, a hand shake or a quick hug (and, one actually managed too), the faculty gathering for a group picture, the staff trying to present him with a memento and the press hoping for a chance to get to speak to him. And, well we did manage to squeeze in some questions to the singing sensation while he was being frisked to the boys college for some more shouting and cheering. Excerpts:
Q How do you feel when you see so much adulation?
It feels great to receive so much love and affection. I hope I can live up to the expectations of my fans.
Q Have you had any formal training in music?
No. I learnt informally from my father and chacha.
Q How is the environment on the show?
It's very warm. The judges are very supportive and there is a lot that we're learning from them. Also, we feel very bad when a contestant leaves.
Q How are you finding Mumbai after Ludhiana?
Apna ghar to apna ghar hota hai. But then, I have come to like the happening Mumbai too. The people here are very professional and organised.