M A I N N E W S
Sirhind canal floods 100 houses, jhuggis
Rajay Deep
Tribune News Service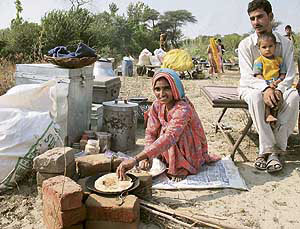 A family affected by a breach in the Sirhind canal prepares a meal in a field in Bathinda on Thursday. — A Tribune photograph
Bathinda, November 8
A 30-feet wide breach in the left embankment of the Sirhind canal entered nearly 100 houses and jhuggis on the outskirts of the city, affecting nearly 500 persons, here this morning.
The water entered Dubey Colony, Paras Ram Nagar and the cardboard factory area, besides inundating hundreds of acres of agricultural land. No loss of life was, however, reported. It is the second such breach in the Sirhind canal in Bathinda district this year.
Deputy Commissioner Rahul Tiwari called in the Army to assist in the rescue operation. Twenty Army jawans reached the spot along with three technical experts.
The water in the canal was reportedly in full flow when the breach occurred. Officers on duty said more than 600 cusecs of water was passing through the canal at the time of the breach.
Senior civil and police officials, besides technical personnel, reached the spot to supervise the repair of the breach and oversee rescue operations. Round-the-clock vigil was being maintained and work to plug the breach was going on full steam.
Sources said the breach took place at about 5.30 am. The rescue operation gathered steam at around 6.30 am when information came that Dubey Colony and Paras Ram Nagar had been inundated. Officials said the flow of water had been stopped from the main head at Doraha in Ludhiana district. Meanwhile, water from the canal had been diverted to Sainewal and Raikot escapes to divert them further to some drains.
Villagers and others living in the vicinity took the initiative to check the free flow of water. Trees were felled for use as barrier and sand bags were thrown in to plug the breach. The administration hired 250 labourers to carry out the repairs.
Regarding the cause of the breach, SDO, Canal Department, Bathinda division, Rajender Singh, said, "I am not sure about the reason, but foul play and damaged roots of trees are among the likely causes, which will be looked into."
The deputy commissioner said, "The priority is to repair the breach. After that, a thorough inquiry would be conducted." The inquiry will be conducted by ADC (Development) Vijay N. Zade.
J.R. Goyal, secretary, Red Cross, Bathinda, said, "The Red Cross has announced a compensation of Rs 2,000 each to those living in jhuggis and Rs 500 to those living in houses where water entered. Rupees 51,000 has been distributed so far through the deputy commissioner."
The Department of Planning had prepared plans for the rehabilitation work of the Bathinda branch of the canal for 2007-08 at an estimated cost of Rs 175 crore. However, none of the officials could give any satisfactory reply over why the embankments were not being maintained properly.