M A I N N E W S
Dalip Singh Saundís portrait unveiled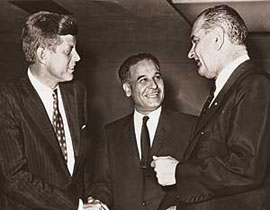 A file photo of Dalip Singh Saund (centre) with President John F. Kennedy and vice-president Lyndon B. Johnson in early sixties.
Washington, November 8
A portrait of Dalip Singh Saund, the first Indian-American Congressman, was unveiled at a ceremony in the Congress Building here.
The family members of the late law-maker were present on the occasion last night, along with several Congressmen, including House speaker Nancy Pelosi.
Democratic Congressman Joe Wilson said, ''After three years, I am so grateful that this honour has been bestowed upon honourable Dalip Singh Saund.
''As the first Indian-American ever elected to the House of Representatives, Congressman Saund has played a vital role in the great history of this body,'' he said.
Saund was a member of the US House of Representatives from the state of California from January 3, 1957 to January 3, 1963. He became the first Sikh Indian-American member of the US Congress.
Born in Chhajulwadi, Punjab, India, he immigrated to the US originally to study agriculture at the University of California. He obtained a master's degree (1922) and a PhD (1924), both in mathematics. He, thereafter remained in the US becoming a successful farmer. ó UNI