All big players are here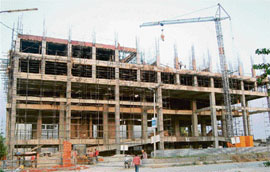 Hoteliers look at Amritsar as a safe investment spot, say Sanjay Bumbroo & Ashok Sethi
Reputed international branded chains, including Marriot, Radisson, Taj, Holiday Inn, Best Weston, and Country Inn, are scouting for joint ventures to cash in on the booming tourist and hospitality industry in this Holy City. The real estate boom, witnessed by the Holy City a few years ago, seems to have settled down and the hotel chains are vying to get the best property for setting up hotels.
Farmers' loss is realtors' gain
Migrant labour now prefers construction site to agricultural field, says Jupinderjit Singh
Manoj Mishra, aka Mishraji, had come to Punjab as an agricultural labourer nine years ago. Tired of being unemployed after the end of sowing and harvesting season, he chose to diversify. Today, he is a building contractor. He brings contract labour from Uttar Pradesh and Bihar to cater to the huge demand of construction labour in Punjab.

Builders go shopping at Sriperumbudur
Dealers rush in after govt shortlists the town for constructing airport & SEZ, writes Arup Chanda
Sriperumbudur, a small village, 70 km from Chennai, is the most sought-after town by property developers this day. Till 1991, its name was unknown but on May 21, 1991, it became internationally 'infamous' as a suicide bomber assassinated Rajiv Gandhi. Sriperumbudur not only became a household name after building the Rajiv Gandhi memorial but was also promoted as an industrial hub with MNCs setting up manufacturing units.


Illustration by Aditi Chahar

Loan switching
Change the bank and loan terms if the amount exceeds Rs 3 lakh and there is a rate change of 1 per cent, S.C. Dhall advises loan takers
Getting a new loan against the exiting one at a reduced rate is not always easy. However, savings can be substantial and hence the trouble is worth it. According to a city-based chartered accountant, if the reduction in interest rate is more than 1 per cent and the loan amount is in excess of Rs 3 lakh, it is worthwhile to go for loan switching. Almost every bank is coming out with a new scheme or reduction in the rate of interest. That too for new clients only.



Illustration by Aditi Chahar
Mayor Toilet designs loo-shaped house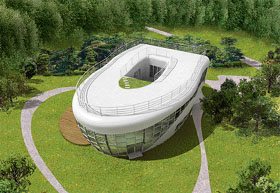 Sim Jae-Duck was born in a restroom and now he plans to live and die in one — a $1.6 million toilet-shaped house designed to promote his tireless campaign for cleaner loos worldwide. Sim will open what is billed as the world's one and only toilet house on November 11 to mark the launch of his World Toilet Association. The 419-square-metre (4,508-sq-foot) concrete and glass structure is rising on the site of Sim's former home in his native city of Suweon, 40 km south of Seoul.
GREEN HOUSE
Tabletop gardens
Miniature landscaping is the latest fad, says Satish Narula
It was a compulsion of space constraint that resulted in the creation of nature in miniature. People learnt the art of fitting trees onto trays called the craft of bonsai creation. Making and maintaining a bonsai is not everyone's cup of tea. It needs a lot of patience and professional precision. Then there are those who want to create a full-scale landscape on the tabletop, creating gardens in miniature form.


Parkash Garewal poses with her creation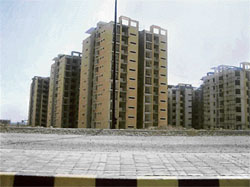 Auction scales new high
Top realtors try to outbid each other in Andhra Pradesh, says Ramesh Kandula
The real estate boom in cyber-savvy Hyderabad has reached a new high despite recent reports of impending slump. The latest indication of land rates hitting the stratosphere was available during the government-held auction of 24.352 acres at Kukatpally in the city, which fetched Rs 507.52 crore.
HOME Decor
Radiance in the room
Devendra Malik discloses how to lend luminous effect to the interiors
Lighting includes both artificial light source such as lamps and natural daylight illumination. Lighting represents a major component of energy consumption, accounting for a significant part of all energy consumed worldwide.
TAX tips
A house inherited with mortgage
by S.C. Vasudeva
Q. My father had mortgaged the residential house during his lifetime for obtaining certain funds for the marriage of my sister. I have inherited the residential house with the mortgage. What would be the position of mortgage amount? Will it be treated as part of the cost of acquisition for the purpose of computing capital gains tax?