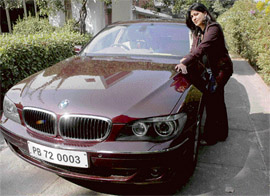 Damsels in control
We hop into the swanky cars of cityís women car connoisseurs to get you a whiff of their passion
You can fly. Feel the wind in your hair. And get whisked away in exhilarating luxury. Each time they strap the seat belt on and gear up for a ride they act as if itís their first. Such is the stealth charm of a swish machine, they smile. Meet the cityís women behind the wheels who have been bowled over by the charms of swanky cars.
Owner's pride: Aradhana Kakar with her BMW For city women, marriage no longer means goodbye to guy friends
MARRIAGE with one does not rise from the ashes of friendship with another. As the bride ties the knot with her husband, she parts ways with her guy friends. No, not anymore! Well, it was something entirely unknown in most Indian households until a few years ago (remember the SRK-Salman-Madhuri starrer Hum Tumhare Hain Sanam?).
Shield in Style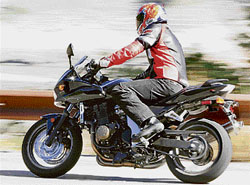 How many do you have? Bid farewell to the boring lid and pick up a helmet that is a reflection of your attitude
We are not talking protection. We are not talking escape from a cop chase. We are not even talking of high-speed collisions. This is not a sermon on the importance of wearing helmet or obeying traffic rules. In fact, we are talking of making a style statement, of wooing girls and of spending big bucks. So here, weíve got a round-up on the latest in headgear for all the biker boys whoíll surely now be convinced that sporting a helmet is after all a cool idea.
Team spirit or spirited team?
If women do not get along, they make news. But are all men bumchums? We find out
A team of rag-tag bunch of girls transformed into dedicated players and played as one. They emerged as winners. But thatís not the breaking news. The news is, that the 16 conjoint bum-chums donít get along well in real life. Talk shows and excerpts from interviews (that centre around the fave question Ď16 girls on one set, must have been quite tough, read masala) with Chak De girls suggest a tale of bickering, gossiping and ego clashes.
Art of freedom
City children take to graffiti as an art form with enthusiasm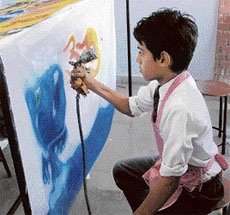 Looking at the gang of boys, still in their uniforms, holding compressors and spray cans and creating fiery symbols to their heartís content somehow did not gel with our concept of graffiti art. After all, isnít it something that street gangs (usually with colourful streaks and awful tattoos) do on public walls while playing hide-n-seek with the stern-looking cop? Even though the Masti ki pathshala number from Rang De Basanti did something to dissipate the image of graffiti as a form of vandalism, it did nothing to promote it as an art form.
Tribune photo
Sense & Sensitivity
Bold facts & no-nonsense presentation. These flicks may or may not rule at BO, but they stay with us for a long time
This one narrates a story sans fancy imagination. The plot is plain simple facts. The setting is no swanky locale abroad, instead there are the stark familiar lanes. The dramatisation reminds you of headlines that had spoilt the taste of your daily cuppa. Welcome to the real side of the reel world, where the number of wronged, suffered or dead decide the plot. Based on real life tragic events, these flicks get bleak openings at box office, are labelled as offbeat ventures, leave our eyes moist and teach us the lesson of life.
Diwali may be over, but the festive mood still continues
The show goes on
The great Indian festival of Diwali is over. Nevertheless, the revelries continue. Nay, not just for the little rag-pickers and scavengers rummaging around the streets swathed with half-burn pieces of red paper looking for unexploded crackers. But, also for so many other teenyboppers out to celebrate the festivities of life.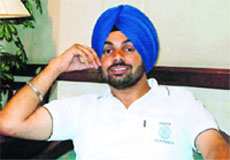 Classical vocalist Ujagar Singh attributes his success to purity of thought and dedication
Going places
The organisers reluctantly invited four-year-old Ujagar to perform at a concluding function of the NSS as a filler. But once he took up the stage, the child managed to create a spell on the audience. Delighted at his musical talent,†his father Tara Singh, a professor of mathematics, put him under the tutelage of†Jaspal Singh, his present guru.
I am a 26-year-old girl in love with a guy across the border. I donít see any difference in our cultures or our way of thinking. We both love theatre and Urdu poetry. I met him on one of my trips to Pakistan and would like to get married to him. The only problem is I am not sure how our families would react to this, I tried bringing up the subject with my parents and they got extremely hassled. I feel religion has no part in a heartfelt feelings. How can I convince people around me.

Health Peg
Sitting longer is risky too
Remaining seated at a place for extended periods is as bad for health as smoking or over exposure to the sun, say scientists. Professor Marc Hamilton of the University of Missouri says people who have to remain seated at their desks for hours in their workplaces, and then place themselves in front of the television after reaching home, are increasing their chances of heart disease, Type 2 diabetes and obesity.
Diamond girl
Aussie pop star Kylie Minogue is the new face of Spanish jewellery brand Tous. The 39-year-singer, who modelled a signature piece of Tous jewellery during her documentary film White Diamondís premiere, has established a contract with the Barcelona-based brand. ďI was immediately attracted to Tous.
first day first show
Farcical Extravaganza
Moolah rage has turned celluloid into a battleground. Itís a fight of bloated eccentricities. Nearly Rs 150 crore is riding on two magnum opuses. There are fireworks outside and stampedes inside cineplexes and multiplexes. Brand Saawariya vs Brand Om Shanti Om.