UP Cong plans to revitalise party
Lucknow, November 12
For the Uttar Pradesh Congress, Rahul Gandhi is expected to work like a charm. In political wilderness for the past 18 years, his clarion call to the Congress leaders to connect with the people and insistence on 'fixing accountability' is a clear shift in paradigm.
Mayawati all set to park her blue elephant in Mumbai
Mumbai, November 12
Bahujan Samaj Party supremo Mayawati is all set to storm Maharashtra with a series of public rallies in the state later this month. Mayawati will kick off the BSP's Sarva Samaj Bhaichaara Banao Rally at the city's Shivaji Park on November 25.


Yeddyurappa, 4 BJP ministers sworn in
Bangalore, November 12
The nation's IT capital turned into a sea of saffron today to mark the installation of B.S. Yeddyurappa as the BJP's first Chief Minister in South India amidst a multitude of party workers and leaders. Yeddyurappa took the oath in the name of God and millions of farmers of the state along with four other BJP leaders, all of whom were sworn in on the portals of the Vidhana Soudha in the heart of the city by Governor Rameshwar Thakur.

Newly elected Chief Minister of Karnataka B.S. Yeddyurappa touches the feet of Lal Krishna Advani as BJP national president Rajnath Singh looks on before taking the oath as the 25th Chief Minister of the state in Bangalore on Monday. — AFP photo

Return of supporters will lead to normalcy: CPM
New Delhi, November 12
Even as it faced flak from its own allies and some prominent social activists over the recent violence in Nandigram, the CPM today defended the action of its workers and supporters to return to their homes in the area, saying it would pave the way for normalcy. The party's politburo, which met here over the past two days, discussed the developments in Nandigram in detail and put the blame for the unrest in the area on the Trinamool Congress and the Maoists.

An arrested activist from the Socialist Unity Centre of India (SUCI) shout anti-West Bengal government slogans from a police van during a protest against the attacks in Nandigram in New Delhi on Monday. — Tribune photo by Mukesh Aggarwal


Nandigram may overtake N-deal in Parliament
New Delhi, November 12
The Nandigram violence looks set to overshadow the debate on the Indo-US nuclear deal in the winter session of Parliament that commences on November 15. The UPA government and the Left parties are keen that the N-deal be discussed at the beginning of the session, preferably November 15 or 16.
NDA team heads for Nandigram today
New Delhi, November 12
Leader of the Opposition L.K. Advani will lead an NDA delegation to Nandigram in West Bengal tomorrow to assess the situation there in the wake of the recent violence. The nine-member delegation would leave for Kolkata tomorrow morning and would then proceed for Nandigram by road, a release signed by BJP chief whip in the Rajya Sabha S.S. Ahluwalia said here.
Convicted ex-MP on hunger strike
Patna, November 12
Former MP and Janata Dal-United (JD-U) leader Anand Mohan Singh, sentenced to death last month for the murder of Gopalganj district magistrate G. Krishnaiah in 1994, has been on a hunger strike for the past nine days demanding better facilities in jail.
Dinner parties as bribe
SC dismisses petition against Sonia
New Delhi, November 12
The Supreme Court today dismissed a petition against UPA chairperson Sonia Gandhi, alleging that her actions, by throwing dinner parties to MPs prior to the presidential and vice-presidential elections, amounted to bribing them to seek their support.


Disproportionate Assets
No immediate relief for Lalu from SC
New Delhi, November 12
In a setback to Railway Minister Lalu Prasad, the Supreme Court today refused to issue any direction for staying the proceedings on Bihar government's appeal against his acquittal in the disproportionate assets case against him and his wife and former Chief Minister Rabri Devi. Lalu Prasad
Rivals reject Bainsla's stand
Jaipur, November 12
The rival Prahlad Gunjal faction of the Gujjar action committee today reiterated its resolve to continue the agitation till the Rajasthan government forwarded the state cabinet's recommendation to the Centre in favour of the ST status for the community.
Manipur MLAs warned against links with militants
Imphal, November 12
The Manipur Government has warned of stern action against lawmakers if they were found hobnobbing with militants, officials said on Sunday. The warning follows a series of police raids on official residences of state legislators in the capital city of Imphal in recent months and arrests of hardcore militants sheltered by politicians.
Fertiliser crisis: Nitish blames Centre
Patna, November 12
Bihar Chief Minister Nitish Kumar today expressed concern over the fertiliser scarcity in the state and blamed the UPA Government at the Centre for this situation. Mr Kumar told newspersons in the weekly janta durbar that revising its earlier policy, the Centre had advised the states to select their own agencies for importing the required fertlisers from abroad.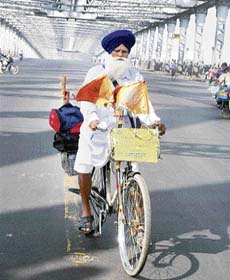 Balbir Singh from Punjab, who is on a bicyle tour of holy places in India, at Howrah Bridge during the West Bengal bandh called by Opposition parties on the Nandigram issue in Kolkata on Monday. — PTI
Vaiko held for holding pro-LTTE rally
Chennai, November 12
MDMK general secretary Vaiko and Tamil National Movement president P. Nedumaran were arrested here today by the police and remanded to custody as they tried to hold a rally to mourn the killing of LTTE political chief S.P. Thamilselvan by Sri Lankan Air Force on November 2.
'40.9 m Indians diabetic'
Mumbai, November 12
Due to stressful lifestyle and changing food habits 240 million people worldwide are living with diabetes of which nearly 40.9 million alone are Indians and this number is expected to grow to 380 million by next 20 years, according to Dr Vipul Patel of Metropolis Health Services.
Prasad's son accused of assault
Chennai, November 12
Congress MLA M.K. Vishnu Prasad, who is also Tamil Nadu Congress president's son and has been charged with instigating yesterday's attack at the party headquarters here, today launched a counter attack on union minister G.K. Vasan accusing him of "organising a murderous attack on him".
Three held in Orissa marksheet scandal
Cuttack, November 12
Three former officials of the Board of Secondary Education (BSE), Orissa, were arrested yesterday by the state crime branch for their alleged role in the matriculation examination mark-sheet scandal involving the son of a former cabinet minister.
Burglar escapes as cops watch cricket
Hyderabad, November 12
A burglar looking for an opportunity to escape from the police custody found the right one during an India-Pakistan cricket match that kept the cops here so engrossed that they did not notice his departure.
Police salary scam probe on track: Gogoi
Guwahati, November 12
The ongoing probe into the police salary scam that had rocked Assam last year was making good progress, Chief Minister Tarun Gogoi told the state Assembly today. The CID investigating the salary scam in the 3rd and 10th battalion has so far arrested 14 persons including an IPS officer.
Army steps up vigil along Pak border
New Delhi, November 12
With the Pakistan government tightening the screws on terrorist organisations having a base in their country, following the imposition of emergency, the Indian Army has stepped up vigil along the Line of Control (LoC) in a bid to prevent infiltration of the subversives fleeing the country.
Pak withdraws 28,000 troops from LoC to fight Taliban
New Delhi, November 12
Pakistan has withdrawn 28,000 troops from the Indian border for operations against Taliban and Al Qaida cadres in Pakistan-Afghanistan border areas, sources said today. This Pakistani move is being viewed in strategic circles here as an affirmation of India-Pakistan bonhomie that has permeated through to the two armies as well.
Car that hit cops carried Salman
Mumbai, November 12
Actor Salman Khan got involved in a controversy early yesterday morning when a car he was driving in crashed into two policemen who were riding a motorcycle, the police said here today. The car was being driven by Canadian model Brooke Clarke and Khan was in the passenger seat, the police said.
Man marries dog
Madurai, November 12
A 33-year-old man in Sivaganga district of Tamil Nadu has married a dog in a bid to ward off the curse of a canine couple he had killed 15 years ago. Selva Kumar tied a 'mangal sutra' to the pet named Selvi, at a Ganesh temple in Manamadurai, about 50 km from here, yesterday.
Curfew in MP town
Indore, November 12
Curfew was imposed in Sanver town of western Madhya Pradesh following communal tension and escalating mob violence. One person was shot at and admitted in the hospital with head injuries, the police said.



Videos
Water purification with Japanese stones.
(56k)
Virus hits vineyards.
(56k)
Hrithik goes to Hollywood.
(56k)
Ali Hyder is 'Osama'.
(56k)