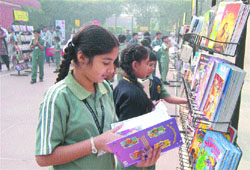 The excitement was palpable among students at the five-day book fair that took off at Spring Dale School in Amritsar on Tuesday. — Photo by Rajiv Sharma
Birthplace of Luv-Kush lies in pitiable state
Amritsar, November 13
Even as devotees have been deprived of a holy dip at Ram Tirath for a long period, due to non-filling of the vast sarovar (water tank), some devoted individuals have come forward to beautify the surroundings of the oldest Hindu shrine, by spending money from their own pocket. According to the legend, Maharishi Balmiki scripted epic Ramayana here, and Mata Sita gave birth to her two sons, Luv and Kush, at this very place.
Black threat to top Sikh shrine
Amritsar, November 13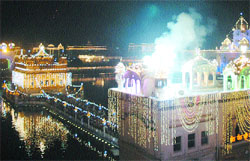 The Shiromani Gurdwara Prabandhak Committee (SGPC) should take immediate steps to control pollution around Golden Temple, said Maninderjit Singh Bitta, president, All India Anti Terrorist Front, to the media here. Bitta said the SGPC should frame a policy within the next three or four months for initiating steps for controlling pollution caused by the use of fire crackers in the temple complex.
Cracker pollution is ruining Golden Temple
Wake Up Call
Punjabi teaching needs a major revamp: Experts
Amritsar, November 13
A quote from Surjit Patar's poetry "Balda bikh han, khada han, bas shaam teek han, pher vi kise bahaar di krda udeek han," displayed at the seminar on "Punjabi Sahitya - Adhyan and Adhyapan," organised at Khalsa College here said all about the dismal present day study and teaching methodology of Punjabi literature adopted in various educational institutions.
Teachers told to take tech convergence route
Amritsar, November 13
"It is unfortunate that we are ignoring the basic sciences today and going for the engineering courses. Since today, we will be talking of technologies where things are at the nano scale, things that can be imagined and not seen physically; therefore the need for today is for imaginative thinkers rather than mechanical thinkers".


On Devp Trail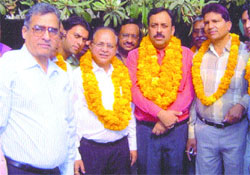 Amritsar MC mayor Shawet Malik (2nd from right) laid the foundation stone of a road widening work in Joshi Colony. — A Tribune photograph
Fellows present papers on Punjabi culture, literature
Amritsar, November 13
Sixteen research papers were presented by the fellows of the School of Punjabi Studies of Guru Nanak Dev University highlighting Punjabi folklore, literature, Gurmit and language in a one-day seminar organised by the department here today.
IAFA to hold painting contest on Children's Day
Amritsar, November 13
The Indian Academy of Fine Arts (IAFA) will hold an on the spot painting competition for school children from 9 am to 12 noon at Art Gallery here, to commemorate November 14 as Children's Day.
Destination Abroad
Set on right course for better results: US expert
Amritsar, November 13
Shammi Muin De, director international admission, Drexel University, counselled local school students about making the right choices about course content while going abroad for higher education.


Badal pro-Khalistan, alleges sacked cop
Amritsar, November 13
Dismissed head constable of Punjab Police Jaswant Singh, who protested the state government's policy of honouring Khalistani ideologue Jagjit Singh Chauhan in the state assembly took a dig at Parkash Singh Badal and his party Shiromani Akali Dal and accused them of supporting the Khalistanis. Talking to mediapersons here today, Jaswant Singh he would seek justice from the honourable court by filing a petition against the officers of the state police who had tortured him during his 20-day illegal confinement in July.


Jaswant Singh
'Ban unscientific activities'
Amritsar, November 13
The district units of the Taraksheel Society today presented memoranda at all tehsil levels to press for their demand for enacting a law against illegal and unscientific activities like treatment through blind faiths, astronomy etc.
Seminar on boosting farmers' income
Amritsar, November 13
The Indian Institute of Industrial Economics and Development Society (IIIEDS) with the support of the UNCTAD, Agricultural and Processed Food Products Export Development Authority (APEDA) and National Centre for Trade Information (NCTI) is organising a seminar on "Value addition and scope of agro-products from Punjab" in Amritsar on November 16.
Awareness drive
Amritsar, November 13
Punjab National Bank will organise vigilance awareness campaign from November 12 to 16.
Diabetes Day on Nov 14
Amritsar, November 13
The World Diabetes day would be observed on November 14, to commemorate the birth anniversary of Sir Fredrick Banting, who discovered insulin used in the treatment of diabetes.
Book fair begins at Spring Dale school
Amritsar, November 13
A five-day book fair was organised by Scholastic Private Ltd at the local Spring Dale Senior School today. Manveen Sandhu, principal of the school, inaugurated the fair having books of all types, including fiction, stories, science, etc, and for all age groups at a reasonable price.