Aloe vera — a natural healer
Dr H.S. Bhatia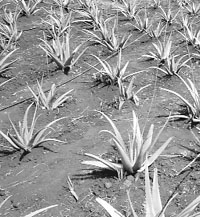 Aloe barbadensis miller, also known as aloe vera, is cultivated for its thick fleshy leaves from which many substances are obtained. Starting more than 50 years ago, the gel in the parenchyma cells of the leaf was being processed and marketed as a drinking product. Today, the industry is flourishing and the gel is used in many formulations for medicinal and cosmetic purposes. It is probably one of the most discussed but least understood medicinal plants in history.
The virtues of aloe vera have been recorded by many ancient civilisations, including those of Iran, (Persia), Egypt, Greece, Italy and India.
There are many fables and myths surrounding aloe vera's history. Egyptian queens Cleopatra and Nefertiti were thought to have used aloe as part of their beauty regimes. Alexander the Great, after conquering Persia in 333 BC, was said to have been persuaded by his mentor Aristotle to capture the island of scrota in the Indian Ocean. This battle was fought in order to secure the island's famed aloe supplies that were needed to treat Alexander's wounded soldiers.
The leaves of the aloe vera plant grow from the base in the rosette pattern. Mature plants can grow as tall as two and one and a half inches to four feet with the average being around 28-38 inches in length. Each plant usually has 12-16 leaves that, when mature, may weigh up to three pounds. The plants can be harvested every six-eight weeks by removing three to four leaves per plant.
Aloe vera contains nearly 98 per cent water, and the total solid fraction varies from 0.5 per cent to 1.5 per cent. These constituents are derived from the aloe leaf which consists of three primary sections:
* The rind (photosynthesis takes place in it) with sap contained in the pericyclic transport tubules (xylem and phloem)
* The mucilage (container) layer.
* The parenchyma or gel fillet (storage) layer.
Most researchers claim that the effects that are observed may be due to the synergistic actions of the 75 known ingredients vitamins A, C, E, B, choline, B12, folic acid), sugar (monosaccharides: glucose and fructose), polysaccarides (gluco-mannans/polymannose), sterols (provides four main plant steroids: cholesterol, campesterol, lupeol and B sitosterol), saponins (glycosides), salicylic acid (aspirin like compound), minerals (provides nine minerals: calcium, chromium, copper, iron, magnesium, manganese, potassium, sodium, zinc), lignin (cellulose-based substance), hormones (auxins and gibberellins), enzymes (provides eight enzymes: aliiase, alkaline phosphatase, amylase, carboxypeptidase, catalase, cellulase, lipase, peroxidase), anthraquinones (provides 12 anthraquinones: aloe emodin, aloetic acid, aloin, anthracine, antranol, barbaloin, chrysophanic acid, emodin, ethereal oil, ester of cinnamonic acid, isobarbaloin, resistannol), amino acids (provides 20 of the 22 human-required amino acids and seven of the eight essential ones).
As far as the use of this plant is concerned, it accelerates wound healing, helps reduce inflammation, pain and itching. It is a wonderful moisturising agent and penetrates all skin types, quickly and deeply. It is naturally hypoallergenic (does not cause allergic response in most people), has about the same PH balance as the skin and stimulates the body's immune system. Aloe vera is said to encourage skin rejuvenation, the healing of wounds and the treatment of sunburn.
It is not recommended for pregnant women.
Cultivation of this plant is not a very tedious process. It can be cultivated in a variety of soils. However, it thrives best in sandy loam soil. No major pest or diseases are reported but water logging can be harmful.
The oldest trick for selling any valuable product in solution is to dilute it with more water. In the case of aloe vera, it seems that the consumer is very insensitive to noticing the effects of dilution. Lee Ritter, in his book "Aloe Vera — a Mission Discovered", quotes one Dr R. McDaniel as having tested over 200 aloe vera beverages in the mid-1980s (presumably in the United States) and having found that of these, only three "contained sufficient aloe to be of any medical value to the consumer". He goes on to say that at the time of writing (1993), according to his own tests, "less than one per cent of readily available brands contain acceptable levels of aloe vera".
Over the years this plant has displayed enormous business potential and with an ever-increasing demand of its products in European countries, it has made the people to run after it. The government should have a regulated plan to monitor these activities.