Broad horizons in dentistry
Sunit Dhawan
If you want to make a career in medicine, but are put off by the arduous process involved in acquiring specialised qualifications, you can go in for a degree in dentistry. Due to the rising dental problems in the country and abroad, dentists are in great demand worldwide. Besides, more and more people have now become conscious about their looks and consult dentists for cosmetic correction of their teeth.

Careercature
Sandeep Joshi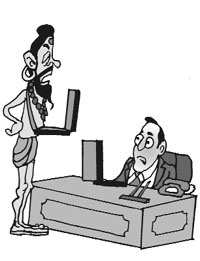 Is there any vacancy of motivation e-guru in your company?

Smart Skills
Script a future in medical transcription
Usha Albuquerque
The world is tapping into the pool of professional talent in India for a variety of services. As the world flattens, India's huge reserve of trained professionals and technology experts in almost all spheres, and, at an affordable price, is attracting a flow of jobs to India. About 10 years ago, the call centres came to India with a bang taking in thousands to handle calls and backroom work from clients around the world.


Six more NIPERs to be set up
The Centre has decided to set up six more National Institute of Pharmaceutical Education and Research (NIPER) across the country in collaboration with the CSIR to improve the pharmaceutical sector, steel, chemicals and fertilisers minister Ram Vilas Paswan said in Kolkata recently.



IT, BPO firms seek employee referrals
Reeling under high attrition in a labour-intensive industry, IT and BPO companies are now setting their eyes on job referrals by their employees with a twin-aim to retaining the existing workforce and expanding it as well. Employees have emerged as the key asset for companies engaged in the information technology and related services.


Keeping work blues at bay
I.M. Soni
Working women suffer from blues. It is already two hours in office, but they have not done much. They do try to focus their mind on what they must do, but the mind, like a fatigued horse, does not quicken the pace. They may take refuge in "I am very unwell", and may even leave the office. Once in office, you try your best to put your mind on the spot, but it goes astray. You try hard; gulp a cup of strong coffee. It does not work because it is work blues you are fighting, not bad mood!



Bits & bytes
Now, Indian firms to help enhance China's BPO skills
In what could probably be the first of its kind venture, two Indian firms have signed an initial pact with a Chinese industry body to train Chinese students in skills required in the booming outsourcing sector. China-based Xi'an Service Outsourcing Development Association signed an MoU with Starting Point Competence Training Pvt Ltd and Snam Abrasive to enhance the level of certification and training required for the BPO industry.


Career Hotline
Storming the male bastion
Pervin Malhotra
Q I am very good at sports and I would love to join the NSG and serve the nation. However, I am not too sure whether women are inducted into this force. Could you please advise me.
Scope in linguistics

Engg vs scientific research

Avenues in social psychology

What is legal process outsourcing?