Broad horizons in dentistry
Sunit Dhawan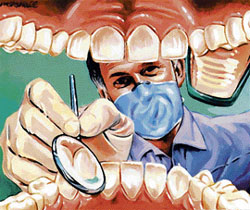 If you want to make a career in medicine, but are put off by the arduous process involved in acquiring specialised qualifications, you can go in for a degree in dentistry.
Due to the rising dental problems in the country and abroad, dentists are in great demand worldwide. Besides, more and more people have now become conscious about their looks and consult dentists for cosmetic correction of their teeth. This has led to the emergence of a sub-discipline called aesthetic dentistry.
These factors have enhanced the scope and significance of a professional degree in the discipline. A comparatively short-span and self-specialised course gives the field an added advantage.
Cutting teeth
One has to acquire a bachelor's degree in dental surgery (BDS), which is the basic requirement for becoming a dentist. For this, the aspirants need to have cleared their 10+2 examination in the medical stream. Numerous dental colleges offer BDS degree courses, the entrance to which is granted on the basis of a written pre-medical test (PMT). The successful candidates are admitted to the four-year degree programme, following which they undergo a one-year internship.
Among the premier dental education institutions in the country are Nair Dental College, Mumbai, King George Dental College, Lucknow, Dr R.Ahmad Dental College, Kolkata, Government Dental College, Rohtak, Government Dental College, Chennai, Maulana Azad Dental College, Delhi, and Government Dental College, Shimla.
Apart from imparting theoretical knowledge about human anatomy, physiology, biochemistry and pharmacology etc, the BDS students are taught in detail about various ailments of the teeth, gums and oral cavities and their cure.
Unlike the MBBS course, students of dentistry get to have a practical exposure of examining patients from the third year onwards.
Getting specialised
Although the discipline of dentistry is considered to be a self-specialised one, there are a wide range of options open for those wanting to go in for higher studies. These include MDS degrees in conservative dentistry (concerned with saving the teeth), prosthodontics (for artificial rehabilitation of missing teeth), periodontics (for children's problems); orthodontics (correction of maligned teeth), oral and maxillofacial surgery and oral medicine (diagnosis and treatment of oral cavities.
Forensic orantology, implantology and aesthetic dentistry are other upcoming specialisations.
Then, there are para-clinical fields like oral pathology and preventive and community dentistry. Short-term courses are available in emerging areas like dental mechanics and dental hygienists.
Scope and significance
In view of the increasing incidence of various dental and related disorders, the requirement of dentists is growing at a fast pace. They are among the best paid professionals across the globe.
Fresh pass-outs have a wide variety of options to choose from. They can also be absorbed as teaching faculty members in any of the numerous dental colleges coming up all over the country. They can also join the armed forces, state service or the Railways.
Of course, starting one's own practice in some posh urban locality seems to be the most lucrative idea for a bright young dentist. Nonetheless, given the acute shortage of qualified dentists in the rural areas, one can also take this as an opportunity to serve the masses.
'Many emerging areas in the discipline'


Dr Sanjay Tewari
There is immense scope for dentists in view of the high incidence of dental problems, says Dr Sanjay Tewari, Principal, Government Dental College, PGIMS, Rohtak
What scope do you see for dentists amidst widespread mushrooming of dental colleges in the country?
The past decade has witnessed many new dental colleges coming up. Still, there is immense scope for dental surgeons in view of the high incidence of dental problems. There is one dentist on a population of approximately 26,000 in the urban areas, and one on a population of 3 lakh in rural areas.
Which courses are in vogue these days?
After BDS, students can opt for a specialisation in any of the regular disciplines. There are new emerging areas like aesthetic dentistry, implantology and forensic orantology. We have also started para-dental courses of dental hygienist and dental mechanic.
What role do you see for dentists in creating awareness among the masses?
While some persons come to us for getting their looks improved, many visit a dentist when their problem becomes acute. The dentists should encourage people to come for regular check-up and maintain good oral hygiene. Under the discipline of preventive and community dentistry, the dentists are required to go out to the masses and educate them about dental care. — SD