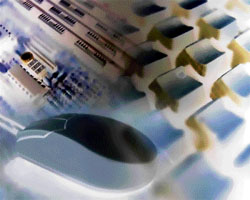 The world is tapping into the pool of professional talent in India for a variety of services. As the world flattens, India's huge reserve of trained professionals and technology experts in almost all spheres, and, at an affordable price, is attracting a flow of jobs to India.
About 10 years ago, the call centres came to India with a bang taking in thousands to handle calls and backroom work from clients around the world. But over the past five years, the outsourcing industry has been throwing up jobs for a variety of professionals who are handling services which require knowledge and expertise, not just communication skills. The outsourcing industry has evolved so fast that it is no longer just the Harish-turned-Harry answering phone calls with a heavily accented American drawl, it now also requires a range of experts from different fields — doctors, lawyers, engineers, CAs, architects, software specialists and many others.
Medical transcription is one such area providing support services for the health care industry. Medical transcriptionists are in demand in Western countries, especially in the USA, where the entire healthcare industry is based on insurance and where detailed medical records are needed for processing insurance claims.
Medical transcription made an entry in India a couple of years ago. But as too many players entered the field, without proper training and expertise, most companies fizzled out, leaving behind a poor impression of this challenging career.
India still provides an ideal location for conducting medical transcription, and so many companies are once again looking to tap into the large number of educated English-speaking people and the comparative low cost of work in India.
What is the work?
Medical transcription is the process whereby one accurately and swiftly transcribes medical records dictated by doctors and others, which is then transferred back to the doctor for use.
A medical transcriptionist is a person who receives medical information dictated by doctors and recorded either into tape or onto digital voice processing systems, and transcribes this information, formatting, and proof reading it, and then transfers it into data format using word processing. The medical information can include the patient's medical and physical reports, clinic notes, office notes, operative reports, consultation notes, discharge summaries, psychiatric evaluations, laboratory reports, X-ray and pathology reports and so on.
Medical transcription is normally conducted by large high-tech corporations which employ transcriptionists, and also by small, one-person home-based businesses. While most medical transcription services serve client hospitals abroad, the service is slowly catching on in India too.
Getting In
Good language skills, particularly in English, is the major requirement for this field. Most companies recruit graduates with strong English comprehension skills, particularly in listening, and with a knowledge of medical terms. Much of this training is imparted at the MT training institutes which have sprung up in all major cities. It is important, however, to ensure the standards of training, and its record of placements, before signing on for a programme. Moreover, anyone with good language skills and the ability of pick-up, and follow different accents and diction can do well in this profession. Those with a background in biology, chemistry or pharmacy and a knowledge and understanding of medical terminologies, and medical procedures etc. can do well in this profession.
There are many companies, mostly in the metros and major cities, that handle medical transcription work of patients from across the globe. These companies recruit those with some experience, or with call centre/BPO backgrounds. Many also recruit freshers and train them with the necessary skills. While starting salaries are around Rs 5,000 per month, within a few years this can rise to over Rs 25,000. So if you have an interest in the medical line and are good in communication, medical transcription can prove to be a lucrative career to pursue.
The writer is a noted career expert