1 Which jubilee of Rock Garden is being celebrated this year?
2 In which state of the country is the world's highest railway bridge being built?
3 Which country, on October 29, became the 20th nation in the world whose stock market benchmark touched the 20,000-point milestone?
4 Which percentage of the world population has access to toilet?
5 In which country is Swat Valley situated?
6 Which leaf figures on the flag of Canada?
7 Name the first Indian-American Congressman whose portrait was unravelled in Washington recently.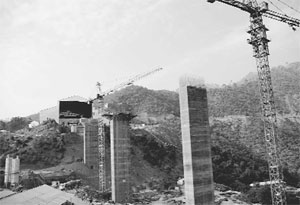 AN ENGINEERING FEAT
8 In which Indian city is the lotus-shaped Bahai Temple situated?
9 Which country will be the world's third biggest emitter of CO2 by 2015?
10Name the founder of social service organisation Sulabh International.
11Which country manufactures the luxury car Audi?
12Which country recently recalled its millions of toys from abroad following complaints of poor quality?
13How many times has Sachin Tendulkar got out on 99 in one-day international matches?
14What name has been given to the trophy to celebrate the 25th anniversary of Test cricket rivalry between Australia and Sri Lanka?
15With which sport is UEFA Cup associated?
Name………………………
Class…………...........…….
School address……………..
Winners of quiz 296: The first prize by draw of lots goes to Mridul Taneja, XII (science), Army School, Fazilka cantt - 152123. Second: Essu Verma, X, Govt. High School, Rail Majra village, tehsil Balachaur, distt Nawanshahr-144533. Third: Ruby Chaudhary, X, Aim Academy Sr Sec School, Bag Kuljian, JaiSinghpur, Kangra -176095.
Answers to quiz 296: Singapore & Sydney; Bobby Jindal; California; India; South Korea; Queen Beatrix; Hyderabad; Andhra Pradesh; Central Information Commission; China; Moon; Anne Enright; Jhulan Goswami; Russia; South Africa
Cash awards of Rs 400, 300 and 200 are given to the first, second and third prize winners, respectively. These are sent at the school address.
Note: Kindly mention the pincode of your place to facilitate the delivery of the prize money.
Answers can also be sent at quiz@tribunemail.com
— Tarun Sharma