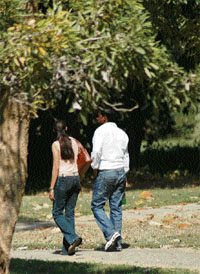 Changing Benchmarks
Youngsters are increasingly going private in public parks, finds Saurabh Malik
LOVE does not brew in café bars alone. And fast food joints are not the only places where it is spiced up and savoured over tandoori tama-tam pizza and macaroni. Nay, Sukhna Lake and Rose Garden too are losing their distinctions of being the only places offering camouflaging greenery on a platter for the buds of emotions to blossom. Mountains… yeah! But winding up the road to enjoy the flavour of emotional merriment is undoubtedly an uphill task for quite a few bills and cooers.



Photo by Pradeep Tewari
Aap Ki Sonali
Motherhood suits Sonali Bandre-Behl. She is looking even more radiant than the last time we met her about three years back when she came here for the first time for her play Aap Ki Sonia.
Imaginative Designs
Is set design an essential part of a production? Surely, say city's theatre artistes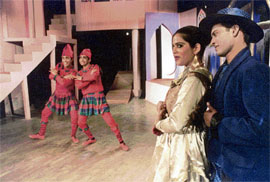 Opulence is the word that comes to mind when we get to see the much-hyped annual productions of our city schools. Only a couple of years ago we saw Fiddler on the Roof use a revolving set. This year, it was High School Musical that bedazzled us with its expensive and elaborate stage. There have been others too, but the name of the creator has been the same — George Pulinkala. And to quote this founder of Delhi Music Theatre, our schools are willing to spend as much as Rs 1.5 lakh on set designs.
A Tribune photograph
Back to the roots
"Elitist theatre caters to the aesthetic ideals and values of the upper classes while folk theatre with its humane touch represents the cumulative expression of the ages, but both have their own significance and charm," maintains the young theatre director-actor, Lekh Thakur.
Flavours of Winter
The season of quilts, numerous rounds of ginger tea & festivities is best enjoyed with rich food!
A trip to the sabzi mandi announces the arrival of winters. Smiling heads of cauliflowers, lissome radishes, succulent red carrots, bunches of methi and palak, and purple-white turnips, all make a pretty picture. The falling vegetable prices ring a bell and you know it's time to buy vinegar and kilos of veggies, and then coat them in rich spices. Yes, it's time to make gajar ka achaar. And, why just gajar? There is gobhi and shalgam too.
Don't worry, gorge on
Trying to lose the stubborn kilos? Worried that winter will make you put on a few more? So, what do you do, sit back and watch your friends and family enjoy winter flavours. Nope, for the city stores are stocked with delectable food options that promise to keep the kilos away.
youth speak
Children of a lesser god?
Even though I am a day-scholar, the hostel is like my second home. This is the place where I unburden myself along with hostel mates. Once after a long, exhausting session of studies, I headed for the mess for a break. We were all engrossed in talking when I heard someone shouting from the other side of table "bhaiya chappaiiiiti".. .a boy around 13 years came running out of the kitchen with a plate-full of chapattis. The kid reminded me of my younger brother.
Matka Chowk
Everyone is just like us
THEY are in the news again! Gujarat, lawyers, police, politicians, bureaucrats, teachers, land-grabbers, actors, sports people, sports clubs and all. The papers and screens are full of them. They are caught in scams and stings, accepting bribes, killing unprotected witnesses, torturing and intimidating others so that they do not testify and turn hostile in court.
It's a man's world
The market is flooded with grooming products for men & colognes are not the only ones seen on their dressers
Do you have a fruit scrub as well? It's not the question that makes all women present in the store turn their heads. It's the voice. A 30-something man asking about the latest in cosmetics. But one look at the men's counter, and we were surprised, at the range available for men.
Shoe style
As summer has passed so has its trends. Winters have arrived in style. While you are busy shopping for the trendy pullovers, jackets and coats to stay warm don't forget your feet. Suiting the winter hues, the footwear will also transform and attain newer shapes. Let us take you through the trends of winter footwear that were showcased in the first flagship store launch of Walk in M and B in the city.
Booked!
City's young avid readers have a reason to cheer. A treasure house of knowledge and entertainment awaits you at British Library-9. Inaugrated on Thursday, there are a whole of new books, DVDs and CD-ROMs waiting to be explored by the children.
Let's do the Salsa
The celebrity dance show Jhalak Dikhla Ja has definitely taught us one thing – to appreciate various western dance forms. So when we went to watch Alex Zen Lee and Kimberly Nodora from San Francisco, in town to conduct eight sizzling salsa workshops, the perfect foot movement, lifts, the grace in their bodies and stunts just made us hold our breath.
Beyonce hoarding branded obscene
An advertisement hoarding featuring a bikini-clad Beyonce Knowles has been branded as obscene by Las Vegas residents. The singer appears on city's local radio station hoarding and the residents of the Sin City are petitioning to have the raunchy image taken down.
Renee prefers solitude
Renée Zellweger has revealed that she prefers peace and quiet to over-the-top partying culture. The actress insisted that she is not a big scene girl and said seeing the scene once a year is more than enough for her. "I am not a big scene girl.