Narial paani is the new craze in holy city
Going nuts over coco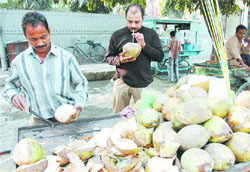 Amritsar, November 16
A drink which has always been associated with beautiful beaches far away is now up for grabs in the holy city. The sight of coloured straws poked into green, raw coconuts, is too hard to resist for the health conscious and those keen on trying something new alike. With films of yesteryears, having an essential 'narial paani' scene wherein the hero and heroine were seen effortlessly sipping water from a coconut, perched perfectly between the two, the couples in the city too are trying to the strike picture-perfect pose.
Campus Buzz
Be open to challenges, GenNext researchers told
Amritsar, November 16
Distinguished Indian and UK-based scientists exhorted the young generation of science scholars not only to accept the challenges in pharmaceutical, agro-chemical and food industry but also to create new ones and find their solutions.
500 students take part in IAFA painting competition
Amritsar, November 16
The Indian Academy of Fine Arts (IAFA) organised an on-the-spot painting competition for schoolchildren to celebrate Children's Day. About 500 students of different schools of holy city and nearby areas participated in the competition.
Holy Heart kid wins stamp contest
Amritsar, November 16
Simran Kundal, a student of class IX at Holy Heart Presidency School, won the second prize in "Design a stamp contest" organised by the department of posts.
Contests for mentally, physically challenged
Tarn Taran, November 16 A district-level competition of painting and cultural activities for the mentally and physically challenged students of elementary schools was organised at Government Elementary School, Kad Gill, here on Wednesday on the occasion of Children's Day.
Conference on modern aspects of anaesthesia
Amritsar, November 16
The local unit of the Indian Society of Anaesthesiologists (ISA) in association with Sri Guru Ram Das Institute of Medical Sciences and Research is organising a two-day eighth annual conference of the north zone Indian Society of Anaesthesiologist in the holy city on November 17 and 18. Stating this to mediapersons, Dr Ruchi Gupta, organising secretary, ISA, said more than 500 delegates from all over the country and abroad were likely to attend the conference. She said the conference, which had been allotted eight credit hours by the Punjab Medical Association, was also supported by the Medical Council of India and US-based organisation The Smile Train, which is the largest charitable organisation involved in free cleft surgeries.
Surgeons reattach 17-year-old's chopped hand
Amritsar, November 16
In a rare procedure a 17-year-old youth was prevented from becoming disabled by a team of orthopedic surgeons who reattached his amputated hand through micro-vascular surgery.
'Type-II diabetes on rise in kids'
Amritsar, November 16
The Escort Heart and Super Specialty Institute held a special diabetes evaluation camp for diabetics on November 14, World Diabetes Day. The camp included facilities like testing blood sugar levels, besides evaluation of complications arising or occurring due to the disease.
Documenting the Partition tales
Amritsar, November 16
Sarah Singh, the one-woman crew, who has produced and directed her first documentary "The Sky Below", says most accounts related to India's Partition are so emotive that one such story has been straying on her from the day she heard it at a seminar in Manhattan.
Virasat-2007
Sitar recital leaves students mesmerised
Amritsar, November 16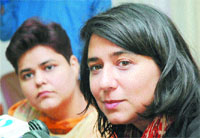 Sitarist and composer Shubhendra Rao rendered his sitar recital at Spring Dale Senior School under the Virasat-2007 series of SPICMACAY on the school premises here. This was the third performance of classical music under this programme.



Sarah Singh during a promotional event of her documentary, 'The Sky Below', in Amritsar. — Photo by Rajiv Sharma
Three nominated as AICC members
Amritsar, November 16
Former transport minister Mohinder Singh Kay Pee, former Batala member of legislative assembly Ashwani Shekhri and Amritsar Improvement Trust former chairman Jugal Kishore Sharma have been nominated as members of the All-India Congress Committee by the party high command. Disclosing this, Congress councillor Ram Lal Sharma welcomed the decisions and congratulated them.