This Above all
Nargis in my life
KHUSHWANT SINGH

I have known a lot of people in the film world but I have little interest in films. For the last 30 years or so, I have not been to a cinema house nor watched films on TV. I confess I had a false sense of superiority over men and women who made millions acting before movie cameras. I envied the acclaim they got from the masses but did not think much of their craft. After I got to know Kishwar and her husband Lord Meghnad Desai, I realised I was wrong. He made me understand that cinema had a powerful impact on the way Indians think and act, their speech and their values. Anyone who ignored it could not hope to understand his countrymen.
Not only has the southern half of India been ruled by men and women from the film industry, it has representation in Parliament, and is a powerful force to garner votes during elections. So reluctant as I was to read Kishwar's biography of Nargis Dutt, Darlingji: The True Life Story of Nargis and Sunil Dutt (Harper-Collins), I did so. I enjoyed reading it because it is well-written and learnt more about people I had kept at a distance.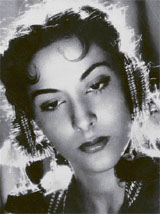 Nargis: Queen of Hearts
Nargis was among the filmstars I got to know during my years in Bombay. I had seen her in Mother India. It had made her India's sweetheart number one. She had married Sunil Dutt who had played the role of her son. It could be described as the living version of Oedipus complex—-mother and son love relationship. She had a long-going affair with Raj Kapoor, but once married to Sunil, she became a devoted wife and never looked back.
Her mother Jaddanbai was Muslim; so nominally was Nargis. I knew she was a frequent visitor to the Hindu ashram in Ganeshpuri which I visited more than once. The man she married was a Punjabi Mohyal Brahmin. Since she spoke Punjabi fluently, I assumed she was a Punjabi. I was wrong. She was Uttar-Pradeshi and picked up Punjabi after her marriage. I have written about our first meeting. I repeat it as it remains embedded in my mind.
It was sometime in the late 1970s. The Dutts were going through a lean period in their acting careers. Their children, including Sanjay, were in Lawrence School, Sanawar, across the hill from Kasauli where I have a villa. Nargis and Sunil wanted to be present at the Founder's Day of the school. Rather than stay in a hotel, they asked a common friend Gulshan Ewing, Editor of Femina, to ask me if they could stay in my bungalow. A meeting was set up.
Nargis arrived at The Times of India building. Everyone from the peons to Editors of different journals and the managerial staff recognised her. Their unbelieving eyes watched her as she walked into my office. We shook hands. She looked very demure as she made her request. I blurted out: , you can stay in my home, but on one condition".
"What condition?" she asked nervously. "Thereafter, I have your permission to tell everyone you slept in my bed". She burst into a peal of happy laughter and put out her hand and said:"Haath laiye"(give me your hand). We clasped hands. And became old friends.
After she returned from Kasauli, she came to my flat to thank me. I recall on her way back home, we stopped at a paanwalla's shop. Once again everyone passing by recognised her. Two men gaped at her; one said loudly in Gujarati: "Sunil Dutt ni joroo chhe". Nargis rewarded them with a torrent of choicest abuse in Punjabi for using the word joroo.
We were nominated to Rajya Sabha at the same time and allotted seats next to each other. Members made a beeline to meet her. When some tried to introduce me to her, she said: "You don't have to introduce me to him. I've slept in his bed".
One exchange she made with a member of the Opposition I can never forget. There was a case of a brutal gangrape reported in all the papers. This lady who happened to be short, plump and very dark was blaming the government for its failure to protect women. Nargis shouted back: "Why are you so worried? Nobody is ever going to rape you". There was a burst of laughter. The poor lady was crushed to silence. I wondered whether calling a woman not rape-worthy was unparliamentary. I am also not sure whether it was recorded in the proceedings.
I happened to be in New York when Nargis was in hospital being treated for cancer. I wanted to call on her. She refused to see me. Chemotherapy had deprived her of her hair and reduced her to a skeleton. She wanted to be remembered as a beautiful woman. Soon after she died. Her body was flown back to Bombay. She was given a Muslim burial.
This is hardly a review of Kishwar Desai's book. All I can say in apology is that it brought Nargis back into my life.
Benazir's return
What do we make of her million-strong rally?
Will Benazir's return herald democracy in her country?
Or is Benazir-in-power a recipe for corrupt autocracy?
Is she really brave or bold?
Or has she her freedom already sold?
Will she actually fight extremist forces?
Or use them merely as her horses?
Will there be no gap between her word and deed?
Is her mind towards India changed, indeed?
Will she be as good as she would seem?
Will she hand over to India Dawood Ibrahim?
Who is a better bet, Musharraf or she?
Or the two of them jointly?
Or is the question silly? Finally, will Benazir a place in history find?
Or only of her loved and hated father remind?
Contributed by Kuldip Salil, Delhi