COLUMNS



THIS ABOVE ALL

GOOD MOTORING

AUDIO SCAN

MUSIC ZONE

WEBSIDE HUMOUR

FOR CHILDREN



CROSSWORD

RHYME TIME

ROOTS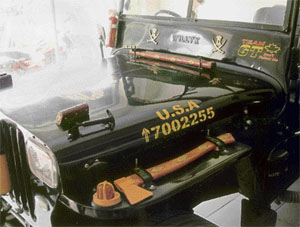 Ready for the battle:

An axe fitted on the mudguard of a made-in-Punjab jeep. Photos by the writer
The Macho Machine
The jeep is a sturdy and dependable vehicle. But the jeeps that are being assembled in Punjab can be a terror on the road. Driven by the imagination and ingenuity of over-the-top Punjabis, they come in garish, loud and often unsafe avatars, says H. Kishie Singh
A jeep, whether an original from Ford or an indigenous one from Mahendra and Maruti, is a soft-top vehicle designed to be driven open. It has a canvas top and foldable or removable overhead rods. With the top off, it becomes a general purpose vehicle. The police Gypsys are testimony to this.



Journey of the jeep
Matter of foreign degree
Not all foreign universities get a thumbs-up by the Association of Indian Universities. Students should verify the claims and credentials of overseas universities before getting enrolled, says Nutan Sehgal
Back in 2004, Mahesh Chaturvedi enrolled for a year's course at the Ohio Business Management Studies School in the US with dreams of a bright corporate future.