Matter of foreign degree
Not all foreign universities get a thumbs-up by the Association of Indian Universities. Students should verify the claims and credentials of overseas universities before getting enrolled,
says Nutan Sehgal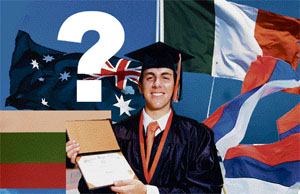 Back in 2004, Mahesh Chaturvedi enrolled for a year's course at the Ohio Business Management Studies School in the US with dreams of a bright corporate future.
Three years later today, he is still waiting for his dream to turn into reality. Employed as supervisor in an export unit, drawing Rs 4,500 a month, he knows he's been cheated.
In 2005, when he came back to India after spending almost Rs 10 lakh on the year-long course, Mahesh started applying for managerial openings in highend companies. But he was in for a shock when he realised his degree was recognised neither in the US nor in India.
That's because the Ohio Business Management School is not accredited to the American Commission on Higher Education Accreditation [CHEA], which recognises over 3,200 institutes in the US. So, whenever Mahesh knocks at the door of a corporate house, he comes back disappointed as other candidates from not so famous Indian institutes are preferred over him.
Like Mahesh, a growing number of Indian students are being duped by claims of overseas universities and institutes. Student counsellors and academicians are getting increasingly perturbed about the trend and are advising young people to thoroughly research credentials of overseas institutes before enrolling for a course.
Like the Ohio Business Management School, there are a number of overseas management institutes which are not recognised by the Association of Indian Universities (AIU) and a list of unrecognised institutions is published from time to time in all leading newspapers.
Assistance cells
Countries like the US, UK and Australia which get a large number of Indian students for higher studies have set up special assistance cells. For example before applying for a course in America, students must verify the institute's credibility from the United States Educational Foundation in India [USEFI] that has offices in Delhi, Mumbai, Kolkata and Chennai.
Admission to a CHEArecognised institute in the US is tough. A student should have top scores in TOEFL and GMT or GRE as well as a consistently good academic record, and recommendation letters from teachers or employer for studying in the US. In addition, he or she must have the money to finance the education and stay.
Britain is another country which is sought after for higher education by Indian students. According to a counsellor at the Educational Counselling Service (North India) in Delhi's British Council, all higher education institutes in Britain are recognised. It is mandatory for them to seek recognition.
But still, says the counsellor, students must assess quality of the institute before seeking admissions. The British Council offers a free counselling service and has research material of over 250 educational institutes. It conducts awareness drives on higher education and invites representatives of British universities.
The third most favoured nation for higher education is Australia. A similar 12+3+2 structure of education and relatively low tuition fees is why Indian students are flocking to Australia. But educational experts say that before enrolling in an institute, students must verify that it is accredited to the Commonwealth Register of International Courses for Overseas Students [CRICROS].
Apart from these assistance centres, the best bet for Indian students going abroad is to check out the facts from the Association of Indian Universities (AIU). Criteria of recognition of foreign institute is simple. Only those institutes get AIU recognition which are recognised in their mother country. And the AIU does not recognise any such foreign institute operating in India unless it has a tieup with a recognised Indian university or college.
Most academicians feel that there is urgent need to check the menace of unrecognised foreign degrees. Barring Institutes like the Harvard, Stanford, London School of Economics and other leading universities, Indian companies now prefer Indian management degrees over foreign ones. The myth that everything foreign, including education, is the best needs to be punctured.
If students want to study abroad, they should choose universities and colleges after verifying credentials by contacting the free counselling cell of AIU at the AIU House, 16 Kotla Marg, New Delhi. (Email—-aiu@del2.vsnl.net.in and website—-http://www.aiuweb.org) — NF