Foreign flavour
Fireworks by imported players made amends for the premature exit of some top teams in the Durand Cup, writes M.S. Unnikrishnan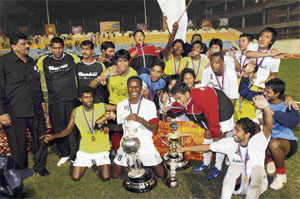 If any team ever won the Durand Cup on the strength of one footballer's scoring prowess, it was Goa's Churchill Brothers, who rode on the magical strikes by captain Odafe Onyeka Okolic to clinch the title in New Delhi recently.



Star striker Odafe Onyeka Okolic (centre, No. 10) was the architect of Churchill Brothers' triumph in the 120th Osian's Durand Cup football tournament. — Photo by PTI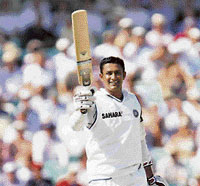 Jumbo in the hot seat
A little over a year ago, when Anil Kumble was asked at a press conference how he felt about not having captained India in Tests, his reply and his facial expressions said it all: he regretted having missed the coveted honour. On being finally appointed to that post, he has fulfilled perhaps his last ambition as a professional cricketer.


It has been an unforgettable year for Kumble. Three months after scoring his maiden Test hundred, he will lead India against Pakistan.

Henin's dream year
The Belgian tennis star has recovered from a broken marriage, family differences and an injured body to play the best tennis of her life, says Ronald Atkin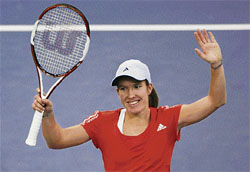 Wimbledon's prominent use of that grand-old Rudyard Kipling quote about triumph and disaster is deliberately sited to catch the eye of every competitor about to march on to Centre Court. Many of the biggest names in tennis have gone on to "treat those two imposters just the same" as Kipling advised, but rarely in the same 12-month span.


In-form Henin won the French Open and the US Open in 2007. — Photo by Reuters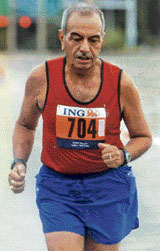 Marathon man
Abhishek Roy
For some, running marathons is just another way to make money, but for septuagenarian Ashis Roy, it's a romance with life. Roy, 75, has completed over 80 marathons so far and he doesn't want to stop just yet. He has a number of records to his name at an age when people find even walking a chore. He is the first Indian to have run a marathon after attaining the age of 60 as well as 70.






75-year-old Ashis Roy has run in over 80 marathons so far