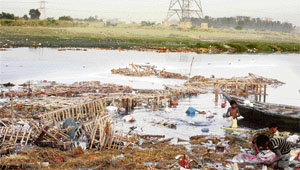 The Yamuna flows through the country's most fertile region but it remains a victim of apathy and greed. Its water is full of biological and chemical wastes from agricultural fields, towns and cities it crosses in Haryana, UP and Delhi. At some places it resembles nothing but a wide sewage disposal drain, reports Vibha Sharma
Agricultural, industrial and domestic waste has made the Yamuna the most polluted river in the world. People continue to defile the river. — Photo by Mukesh Aggarwal

Way to go Dutch
Much of the credit for preserving the art and history of Chamba goes to Dr Jean Phillipe Vogel of the Netherlands, says Kanwarjit Singh Kang
The officials of Bhuri Singh Museum in Chamba recently demanded from the Kern Institute in the Netherlands a portrait photograph of Sanskrit scholar and archaeologist, Dr Jean Phillipe Vogel, to be placed in the museum for his contribution in preserving the heritage of Chamba.
Hunt for the Loch Ness Monster
Myth or reality? The mystery of the Loch Ness Monster, Nessie, has generated excitement and scepticism in equal measure. Rachna Singh travels to Loch Ness to find out the truth about Nessie.
INTERVIEW
'I'd love to work with Rani'
Subhash K. Jha
The inimitable poet-on-celluloid and filmmaker Gulzar is gearing up to direct a film after a long hiatus and would like to team up with Rani Mukerji in his next project. "I'd love to work with her in my next film. I know she won't say no to me," said Gulzar who loved Rani's performance in Bunty Aur Babli.
King of the jungle
The king cobra, which is known for its reasoning and intelligence, is a rare species which is on the verge of extinction, writes T. S. N. Murthy
Known as Hamadryad in popular parlance, the king cobra is the star snake of the Indo-Malayan region and certainly the most dangerous wild animal. It is ordinarily 12-14 feet long, with exceptional ones growing up to 18 feet and even more. It is a slender, graceful serpent with a narrow head that looks anything but poisonous. If not observed carefully, it may be passed off as a rat snake.
Grin & beer it
A black bear in a Chinese zoo has amazed zookeepers with its unusual taste for beer. But what has left the people shocked is the 10-year-old bear's wisdom of stopping booze intake before it becomes drunk.
Burning out too fast
More and more high-achieving couples are working hard and partying harder... burning out, reports Vimla Patil
Burnout has become the biggest epidemic among young, upwardly-mobile men in metro India. Here is a huge number of metro-sexual men who not only drive themselves to achieve financial and personal success even as the hit the mid-twenties, but also tie the knot with young women who are equally qualified and share their zest to make it big in life before they have reached their thirties.
Laddoos for all occasions
Harikrishna Mahanti
The query as to which is the most popular sweet for a festival is likely to provoke verbal riots. The 150-year-old rossogulla from Bengal, the 100-year-old sweet mysorepak from the South, chikki from Maharashtra and the multi-type barfis of Delhi are bound to stake their claims. But if you have to go by its classic history, popular acceptance for weddings and success in exams, laddoo is the most celebrated of the mithais.


Bringing alive Binodini Dasi
Shoma A. Chatterji reviews three plays on the life of a versatile stage artiste who became the mistress of a wealthy man to save her theatre group from ruin
Truth is indeed stranger than fiction. So was the life of Binodini Dasi (1863-1941), a prostitute-turned-actress who dominated the Kolkata stage for a little more than a decade. She flowered into a versatile actress-star under the able guidance of none other than Natasamrat Girish Chandra Ghosh (1844-1912).
A matter of belief
Priyadarshan's Bhool Bhulaiya revives questions on the eternal debate between science and superstition as presented in the mainstream Indian cinema.
Shoma A. Chatterji looks at similar films