And filthy flows the Yamuna
The Yamuna flows through the country's most fertile region but it remains a victim of apathy and greed. Its water is full of biological and chemical wastes from agricultural fields, towns and cities it crosses in Haryana, UP and Delhi. At some places it resembles nothing but a wide sewage disposal drain, reports Vibha Sharma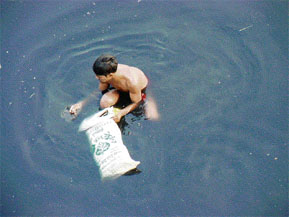 Photo by Mukesh Aggarwal
The story of the Yamuna, one of the most polluted rivers of the country, is a tale of the inherent greed of human beings. Of how we keep taking without giving anything in return. We took the journey of the holy river from its origin to its meeting point with the Ganga at Allahabad. With us were people who are fighting to see the river survive the present-day onslaught.
Their protest against the 2010 Commonwealth Games Village, malls and other infrastructure on the riverbed is slowly gaining ground in the Capital. India's "Water man" Rajendra Singh, former Indian Naval officer Surveshwar Sinha and environmentalist Manoj Misra of the Yamuna Jiye Abhiyaan describe how things have gone wrong.
In fact, Misra's effort —River Yamuna Dying by Default or by Design—is an eye-opener. "Yamuna appears to be fighting a lost battle for survival against the powerful forces of avarice and general apathy," he says.
Fertile region
Used indiscriminately for religious rituals, bathing and cattle wading by those living on its banks, the river has become a dumping ground for the very people it sustains.
Yamuna, one of the most sacred rivers in India is the major tributary of holy Ganga and originates from Yamunotri glacier in Uttarkhand. Incidentally, there appears to be some evidence that the 1376-km-long Yamuna used to be a tributary of river Ghaggar, but changed its course due to tectonic activities and became a tributary of the Ganga. The Doab region, where the Ganga and the Yamuna flow, is the most fertile region of the subcontinent.
"Yamnotri is the most exhilarating experience," says Misra. There is also a temple dedicated to Goddess Yamuna and a hot water pool where prasad is prepared. Mythology says Yamuna is the daughter of Surya and Sharanyu and the twin sister of Yama, the god of death. She holds a special place in heart of Sri Krishna and is known as his companion.
The river also provides an excellent backdrop to the symbol of love — Taj Mahal—Agra. But now its water is so full of biological and chemical wastes from agricultural fields, towns and cities it crosses in Haryana, UP and Delhi that at some places it resembles a wide sewage disposal drain.
Journey
On its way to Allahabad where it meets the Ganga and the mythological Saraswati, Yamuna undergoes an onslaught of the worst kinds. Amongst the most polluted and exploited rivers of the world, especially during its course through the plains. This until it meets the Chambal at Etawah and receives a fresh lease of life. "After Etawah, the river can hardly be called Yamuna. It should instead be called Chambal because there is hardly any water from Yamuna in it," says Mishra.
Yamuna covers a distance of 170 km in the hills of Uttrakhand, passing through the elevated valley of Dehra Dun, cutting through Shivalik hills to enter the plains of Haryana and UP. Tons and Asan in Uttarkhand and Kamal and Giri in Himachal are its main tributaries. It has a lot to do with people living at its banks, who, according to Rajendra Singh, have a lot of martriyabhav for the river. "In hills, people treat Yamuna like their mother. The problems are created by tourists who leave behind their garbage," he adds.
The real problem begins when the river reaches the Hathinikund barrage. Yamuna covers a distance of 220 km from the barrage before entering plains of UP and Haryana. At Tajewala, the river waters are divided into two parts —the Western Yamuna Canal (WYC) and the Eastern Yamuna Canal (EYC) that divert its waters into Haryana and UP.
"Except a seasonal stream, Som Nadi, which joins Yamuna near Sahranpur, and the heavily polluted river Hindon that joins it south of Greater NOIDA in UP, till it meets the Chambal, the Yamuna is largely a drain that carries sewage from cities, agricultural fields and people who live on its banks," says Misra.
All along, water from the river is diverted for power generation, irrigation and drinking. It does receive some respite from ground water accrual but whether it is Yamunanagar, Karnal, Panipat and Sonepat in Haryana or Saharanpur, Muzzafarnagar, Meerut or Baghpat in UP, it carries carry domestic and industrial waste, untreated most of the time. In Delhi alone, 21 waste water drains empty into it.
Subsurface acquifers at few points recharge Yamuna to make it into a flowing body. "Upstream of Wazirabad, low acquifers recharge the river and Yamuna manages to carry on," says Sinha.
The situation becomes worse after it leaves Delhi at Okhla. "After Okhla, water is diverted into the Agra canal and the river just carries sewage from Vrindavan, Mathura and Agra," he adds.
Waste disposal
Central Pollution Control Board (CPCB) data suggests that at Hathnikund, 2-km upstream of Tajewala barrage, Yamuna waters are of A and B category. Category A means that Yamuna at that point is a drinking water source without conventional treatment but other disinfections. Category B means fit for outdoor bathing.
Seven-km east of Yamunanagar at Kalanaur provides impact of Som Nadi on water quality putting it in Category C. Here Yamuna is a drinking water source with conventional treatment followed by disinfection. But after that all hells breaks loose and water category degrades to 'D' and 'E'.
Domestic, agricultural and industrial pollution and the lowest value of Dissolved Oxygen (DO) at 0.1mg/lt make Yamuna the most-polluted river in the country. The significance of the figure —0.1mg/lt—can be understood from the fact that in category A, the DO is 6 mg/lt and bathing quality standard 5 mg/lt. DO is the amount of oxygen in mg/lt of river water to sustain acquatic life which should be 4 mg/lt or more.
"Yamuna has one of the highest Biochemical Oxygen Demand (BOD) amongst all rivers in the country at 36mg/lt. It has the highest count in the country of total coliform numbers and faecal coliform numbers at 2.6 billion MPN/100 ml and 1.7 million MPN/100 ml, respectively," says Misra. BOD is the amount of oxygen needed by bacteria to oxidise one litre of organic waste. For bathing quality standard BOD is 3 mg/lt, meaning there should not be more than 500 fecal coliform—the disease-causing bacteria— per 100 ml of water. The 73-year-old Sinha has fond memories of river rafting in the Yamuna as a young naval officer.
"My first experience of rafting in Yamuna was in 1951, as a 16-year-old cadet. The river was pristine. It was still all right till the late 1970s.but things worsened in the 1980s and we stopped sailing. Now the river is nothing but an obnoxious smelly nallah," he adds.
The CPCB in 2000 said there were 22 industrial units in Haryana, 42 in Delhi and 17 in UP, including paper, sugar, chemical, leather, distillery, pharmaceuticals and power industries, which directly discharge into the river without treating the waste and polluting the river.
While agricultural pollution sourced through agricultural residues, fertilisers and pesticide use is another culprit, in India another source of pollution is open defecation, washing clothes, cattle wading, religious offerings and other ceremonies performed on river banks. The CPCB says stretches that are contaminated are due to disposal of waste water from industries and domestic sewage. Besides domestic waste, Delhi's contribution to Yamuna's woes has been encroachment on its riverbed. "Riverbeds and flood plains are important part of acquatic ecosystem with important ecological role in ensuring smooth river water flow, growth of requisite vegetation, groundwater recharge," says Misra, who with Rajendra Singh, Supreme Court advocate Prashant Bhushan, environmentalists like Vandana Shiva, institutions INTACH and IIC and RWAs, is currently engaged in a fight with the authorities against construction on the riverbed.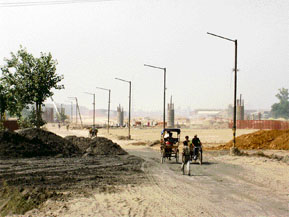 "Riverbed of Yamuna is under severe assault because of alternative land uses in the name of development by various agencies, including the DDA. The entire plan for the Games village is a clever ruse to grab land in the riverbed and accelerate the process of riverbed conversion by the state in the popular PPP model," he adds..
Rajendra Singh agrees: "The government razed several small temples and ghats in the name of encroachment but allowed Akshardham temple to come up in the riverbed because it involved big names and money. The temple and the Delhi metro's infrastructure is a sign of the fact that bigger companies and MNC are eyeing the water-rich Yamuna-Ganga-Doab area".
Governmentspeak
According to the DMRC spokesperson, Anuj Dayal, all metro projects have requisite environmental clearances. Mishra disagrees.
A World Bank-commissioned valuation report prepared by the Delhi University and the Institute of Economic Growth for the MoEF clearly says "no" to development of commercial and residential estates on floodplains and channelisation of the river, he says.
As far as pollution is concerned, the government agrees that the quality of water in Yamuna has not shown the desired improvement, largely due to the gap between demand and availability of sewage treatment capacity and lack of availability of fresh water for ensuring minimum flow in the river.
The Minister of State Namo Narian Meena says clean-up projects of rivers like Thames, Rhine and Danube took 20-40 years. "Review of strategies of conservation policy and identification of additional towns is a continuous process. Conservation of rivers is a dynamic activity with ever-increasing pollution load due to increase in population. Moreover water being a state subject it is the responsibility of state government to create proper sewerage infrastructure to prevent pollution entering from rivers. The Central Government only supplements the efforts of state governments by providing one-time grant for capital works for identified pollution stretches," he told the Parliament recently.
The Centre has in place the National River Conservation Plan, under which it approved a grant of Rs 311.06 crore for Haryana and 924.43 crore for UP to create sewage treatment facilities. In the name of the Yamuna Action plan, close to Rs 1400 crore have literally gone down the drain that the river is today. The YAP was taken up by the government in assistance with the Japan Bank of International Cooperation for pollution abetment works in the river. YAP-I was declared closed in February 2003. YAP-II commenced in December 2004 at an approved cost of Rs 624 crore of which major position of the outlay of Rs 387.17 crore is for Delhi. Under it a sewage treatment of 135 mld is proposed in Delhi besides projects for "rehabilitation of 324 mld treatment capacity and rehabilitation and laying of trunk sewers of length of 30.82 km".
According to latest information made available by Delhi Jal Board in Parliament, "to ensure discharge of treated effluent into the river, it is envisaged to implement the works namely laying of interceptor sewers along major drains augmentation of sewage treatment plants, interception of small drains, rehabilitation of trunk sewers and construction of additional sewage treatment plants in a time-bound manner".
M.K. Lamba from the Haryana Irrigation Department claims situation in Haryana is not so bad, rather it has improved. "At Yamunanagar treated waste water is diverted into storage fields for the use of farmers. Earlier, drain no 6 used to carry untreated sewage from Panipat, Sonepat and Samalkha into diversion drain no 8 and pollute drinking water upstream of Palla. Now the irrigation department has constructed a separate drain at a cost of Rs 10 crore to divert sewage water downstream of Wazirabad so that Delhi gets good drinking water. Downstream of Okhla, around 600 cusecs is diverted to the Gurgaon canal. It is Delhi which is not doing anything to treat its effluents. Rather the situation is worsening, he adds.