It's Rocking
Parbina Rashid
Weddings of the rich & famous, video shoots, festivals, contests... World famous yet quaint, Nek Chand's ode to waste is the perfect venue. As the city readies to promote Wedding Tourism, the place prepares to be the star host
Barely have we stopped grooving over terms like eco-tourism and medical tourism and a new word has been thrust upon us — Wedding Tourism. Of course, with a world-class monument Rock Garden doubling as a venue for weddings, Chandigarh Administration's novel concept of promoting the city as a tourist hub of the north cannot go wrong. The concept is still new and no concrete plan has been chalked out yet.


— Photo by Vinay Malik

Folksy art
Traditional crafts to beautify your home
Aneesha Sareen
It's a perfect blend of tradition and creativity at the handicraft exhibition at Panchayat Bhawan-18. With a wide variety of items for home décor on display, the place makes a must visit for those in love with traditional handicrafts. Though the main emphasis of the fair is on home decor, there is a colourful stall for kurtis and suits that greets visitors as the entrance.



— Photo by Parvesh Chauhan

Thorny Affair
The wide variety of cacti on display at Cactus Garden is enough to make one fall in love with these exotic plants
Aman Minhas
Did you know there are over 6,000 species of cacti in the world or the tricity has over 3,500 species or that Aloe Vera is a cactus or that it takes some cacti as long as 35 years to flower?



Queen of the show: Pachypodium brunei
Brig Bewli's collected 400 species in 13 yrs flat!
Vishal Gulati
He loves thorny beauties. His passion to collect rare and exotic cacti makes him a "botanist". Though he is a mechanical engineer by profession, his knowledge about plants, especially cacti, is noteworthy. Brig C.S. Bewli's tryst with thorns is not too old. It was in 1994 when he first purchased Gasteria, a cactus species.


Imagine this!
An entertainment channel that promises to bring happiness to your living room
Purva Grover
We had more than an hour to imagine what this new channel would be all about as we waited last Wednesday morning for the big launch of NDTV's Hindi general entertainment channel, NDTV Imagine.

Stars at the channel's launch party in Mumbai.

Laughing all the way
Parbina Rashid
It's always refreshing to see students come up with fresh ideas and implement them on screen. More so, if you happen to watch a comedy like Filmi Thug on a four feet by six feet screen along with comedy king Aurangzeb Eshai and Jaspal Bhatti at Bhatti's state-of the-art institute Mad Arts-Mohali.

The Pak comedy king on the serious business of comedy
— Photo by Vicky Gharu




Little Interview
Play for the

party


Rajiv Bhatia
DJ Sanj, renowned disc jockey from UK, is performing in the city at Disc X-over. Just in case you are not so familiar with his name, he has hit numbers like Kehre pind di tu ni and Block party to his credit. Known for his remixes in Bollywood and Bhangra music, he has more than 10 CDs to his name. His upcoming albums are Apna Punjab and American Desi.

— Photo by Manoj Mahajan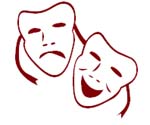 For the love of theatre
Bollywood is entertaining but often not thought provoking, it was this notion that got a few city people thinking and they formed a group called META — Meaningful, Entertaining, Thought-provoking and Artistic cinema. With the idea to give the city a chance to open their hearts to meaningful art, the open for all club screens movies across all genres.
Matka Chowk
Flavours of Festivity
Sreedhara Bhasin
Diwali is over, but the season is still festive. The city has still not slowed down from the shopping fever and dry fruit excesses. What I enjoy most are not the fancy diyas or the glittering crystal ware – but the unfettered joy that seems to pervade the air.


First Day First Show
Cooking up a great tale
Rajiv Kaplish
No Reservations
WATCHABLE
GOODBYE grandeur, welcome simplicity. As the cacophony of squeaks and rattles over Saawariya and Om Shanti Om subsides, there is a gentle breeze in the form of No Reservations, which starts blowing in from nowhere and soothes your ruffled feelings.
Write to Renee
at lifestyletribune@gmail.com or C/o Lifestyle, The Tribune, Sector 29-C, Chandigarh
We are two friends studying the same subjects. In the last exam, my friend copied from me and did not get caught. Now she has made it a habit. She also teases me that I am not smart enough. I am losing my confidence. I do not want my studies to suffer. Please help.