Obituary
Justice Pathak, a gentleman judge
S.S Negi
Legal Correspondent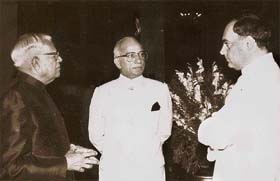 A file photograph of the then President of India R. Venkataraman (left) at a dinner hosted in honour of Justice R.S. Pathak (centre) at Rashtrapati Bhawan in April, 1989, after the latter had been appointed judge of the International Court of Justice at The Hague. The then Prime Minister Rajiv Gandhi also seen in the photograph.
New Delhi, November 18
Adorned with numerous achievements in a distinguished career traversing international boundaries, November seems to have had a special significance in the life of former Chief Justice of India R.S Pathak. He was born in the month, joined the legal profession in the same month and as fate would have it, left for his heavenly abode on this day of November at the age of 82.
His activism as a professional jurist of high standing was well recognised even at an advanced age when he was entrusted with the task of inquiring into the much controversial Iraqi oil-for-food scam, which had posed a grave threat to the Manmohan Singh government and to the image of the Congress.
Proving to be a stickler to his task, Justice Pathak, unlike several other probe panels, finished his work within the stipulated time to submit his report, which eventually helped the political turmoil on the issue to subside.
Having the distinction of being among the few Indian jurists to be a Judge of International Court of Justice (ICJ) and having been a member of various important international arbitration tribunals, Justice Pathak was born on November 25, 1924. He enrolled himself as a lawyer on November 8, 1948 after passing M.A LL.B from Allahabad
University.
Always a brilliant student, he proved to be a lucky second son for his father Gopal Swarup Pathak, who went on to become the Vice-President of India.
The major milestones in his distinguished career as a jurist, include appointment as a judge of the Allahabad High Court in October 1962, Chief Justice of Himachal Pradesh High Court in 1972, Supreme Court judge in 1978 and finally the Chief Justice of India (CJI) in December 1986.
While heading the top constitutional post of CJI, he was called upon to adjudicate one of the most complex cases in post-Independence history; the Bhopal gas tragedy victims' compensation from US multi-national Union Carbide when the matter had log-jammed due to diplomatic row between the Indian and US governments over the prosecution of company's CMD.
Justice Pathak heading a Bench seized of the case, had chosen to use his persuasive acumen rather than sticking to the legal nitty-gritty and asked the Union Carbide and the Indian authorities to arrive at an amicable agreement as thousands of poor victims, who had suffered multiple health problems due to the leakage of deadly methyl isocyanate from the company's plant, could not have waited for years for a decision on the damage suit.
The persuasive tactic of Justice Pathak yielded the desired result as the company agreed to pay $ 470 million as a full and final settlement to Indian government for payment to the victims and his Bench gave approval to it in a verdict on February 15, 1989. Had this course not been adopted by him, the case would have lingered on for years.
In recognition of his immense knowledge in civil laws, an offer came to him to be a Judge of the ICJ in Geneva a few months after the Bhopal gas case verdict and he relinquished the post of CJI on June 18, 1989 much ahead of his due retirement to join there. He made a mark there too in deciding various complex cases of international arbitration.
Two top legal brains of the country F.S Nariman and Ram Jethmalani described the passing away of Justice Pathak as a great loss to the country, particularly the legal fraternity. In their assessment, "a judge with such humility and immense knowledge of law has today become a rare species".
In his condolence message from Mumbai, Jethmalani described Justice Pathak as a "gentleman judge" and one of the great jurists who had adorned the seat of CJI. In his assessment, Justice Pathak's most noteworthy verdict was in the Kehar Singh case, in which a Bench, headed by him had dismissed the mercy petition of the Indira Gandhi murder case co-accused. Due to some circumstances, he was deprived of laying down what could have proved to be a great jurisprudence in the history of criminal law, Jethmalani says.
Nariman described the death of Justice Pathak as a great blow to the legal fraternity as he was not only known as one of the most talented judges in the country but his legal acumen was well recognised in the international arena as one of India's representative to the ICJ… "where he was held in great reagard. In the past few years his work as a member of Appellate Board of Arbitration in International Sports was much appreciated. He was arguably the best known Indian judge abroad along with Justice P.N Bhagwati," Nariman said.
Several other jurists who had the opportunity to work with Justice Pathak remember him as a thorough "gentleman judge" who had a great sense of humility in dealing with people, irrespective of their status.