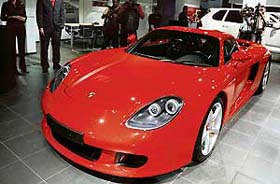 Photograph of the Carerra GT sports car at the Porsche centre in Mumbai on Tuesday. Porsche is set to achieve a near 17 per cent growth in sales in India for the year ending December by selling close to 150 cars. Porsche opened its first centre in South Mumbai. — AFP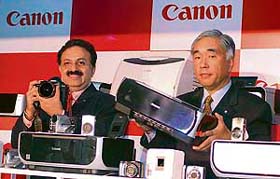 President & CEO, Canon (India), Kensaku Konishi and vice-president, Canon (India), Alok Bharadwaj (left) at the launch of various products in New Delhi on Tuesday. — PTI
Nigeria blocks not under scanner: ONGC
New Delhi, November 20
Country's flagship oil explorer Oil and Natural Gas Corporation today refuted the media reports that the licences won by the OMEL for two blocks in Nigeria are under scanner.
Loan Recovery
RBI warns ICICI against coercive methods
New Delhi, November 20
The Reserve Bank of India has warned ICICI Bank of stern action in case incidents of coercive methods by recovery agents of the bank recur, the Rajya Sabha was informed today.
FM seeks Rs 1,256 cr for oil bonds
New Delhi, November 20
Finance minister P Chidambaram today sought, from the Lok Sabha, an amount of Rs 11,256.92 crore for issuing oil bonds to state-run oil companies to compensate them partially for selling fuel at below cost.
Profit booking brings Sensex down
Mumbai, November 20
The Sensex fell 352 points or 1.8 per cent amidst profit booking in large-caps even as shares in the mid-cap and small-cap sectors kept the bullish momentum going. The benchmark sensitive index closed at 19,280 levels after moving in a broad range of 19,196-19,714 levels.
'One stop shop' boost for Indian tea
Guwahati, November 20
All grades of Indian tea produced in Assam, Darjeeling, Dooars and south India will be on the offer for tasting by tea buyers from India and abroad in the three-day India International Tea Convention billed at the 'one stop shop for wide range of Indian tea'.
Tata to come out with Rs 10,000-cr issue
New Delhi, November 20
Tata group company Tata Steel is coming out with a mega rights issue of about Rs 10,000 crore to repay the 'bridge loans' raised for funding acquisition of British steel behemoth Corus.


Nooyi on USIBC board
Chandigarh, November 20
The US-India Business Council announced today the appointment of Indra K. Nooyi, chairman and chief executive officer, PepsiCo, to its board of directors. The US-India Business Council is a premier business advocacy organisation representing 250 of the largest US companies investing in India and two dozen of India's largest global companies.
M&B footwear eyes expansion
Chandigarh, November 20
M&B footwear is one of the fastest growing companies in the shoe business in India. The company has seen humble beginnings in the form of a family run independent footwear retail store-Taj Shoes in New Delhi, which today has expanded into a multi crore business M&B footwear.
Consumption of gold down
New Delhi, November 20
As per the national mineral inventory prepared by the Indian Bureau of Mines, total annual production of gold during 2004-05, 2005-06 and 2006-07 has been 8.680, 9.757 and 12.825 tonnes, respectively.
CPI up by 3 points
Shimla, November 20
The All India Consumer Price Index numbers for agricultural and rural labourers increased by three points each to stand at 413 in October. The rise and fall varied for each state.
Beam Global Awards
Chandigarh, November 20
Beam Global Spirits & Wine held the 7th Annual Teacher's Achievement Awards ceremony in Mumbai on Saturday.