2007: Some shine, some whine for BPO
Contentment Calling
Overall BPO employee satisfaction improved in 2007, but longer travel time to work and unearthly hours raised stress levels, says a recent survey.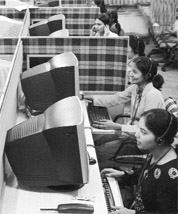 Indian business process outsourcing (BPO) firms improved the overall employee satisfaction level in 2007 even though stress levels continued to be high. Travel time to work and back, and unearthly work hours were the biggest contributors to the unusually high stress levels, according to the recent fourth Dataquest-IDC BPO E-Sat survey 2007.
Higher happiness quotient
Employee satisfaction went up on five parameters—job content, work culture, training, appraisal, and people. It fell on two—company image and salary. In 2007, employees were least satisfied about their salaries. The Dataquest-IDC survey measured employee satisfaction on 11 parameters, including employee strength, percentage of last salary hike, cost to company, company image, company culture, job content or growth, training, salary and compensation, appraisal system and preferred company.
No gain without strain
The survey did not find stress and health as much of a 'killer issue' as it has been made out to be. Stress and health weren't even among the 'top three' factors for leaving a company. (Recently, India's Union Health Minister A. Ramadoss called for a health policy for the tech sector, saying: "(BPO employees) have a sedentary lifestyle. They smoke, go for late-night parties, and even take drugs. Some get heart attacks in their mid-20s...") Strain as a reason for leaving a company was at no 7. Among the factors that caused stress at work, 'health issues' appeared at No 6, beaten by travel time, work timing, insufficient holidays, workload and long hours. "Health as a stress factor is indeed a concern, with a fifth of employees citing health as a stress factor. The good part is that the industry is sensitive to this and many companies are taking real measures, from checking indoor air quality to testing food in labs," says Kapil Dev Singh, Country Manager, IDC India.
There were indeed health issues. Of the 1,749 employees surveyed, 32 per cent had sleep disorders; 25 per cent digestive disorders; and 20 per cent an eye-sight problem. The caveat: Dataquest and IDC India have no such data for other professions.
Adds Dataquest chief editor Prasanto K Roy: "Every profession, from advertising to finance, has stress and health issues. There's just better data for BPO. And BPO still sets the benchmarks for employee facilities, from doorstep pick-up-and-drop to a luxury environment and food. For employees, this remains a top-notch, high-pay profession with choices, albeit one that is excessively under the public and media scanner."
VCustomer, e4e Solutions, IBM Daksh, Genpact, Wipro have the most satisfied employees.
The Top 5 slots in employee satisfaction were taken by vCustomer, e4e Business Solutions, IBM Daksh, Genpact and Wipro, according to the survey.
HCL Technologies, Allsec Technologies, Ajuba Solutions, Equinox Global and Brigade occupied the next five employer slots with most satisfied employees in the BPO industry.
As many as 1,749 employees from 19 companies in cities like Mumbai, Pune, Kolkata, Delhi NCR, Chennai, Ahmedabad, Hyderabad and Bangalore participated in the survey. While large firms ranked better in parameters like work culture and image, niche companies were better in terms of salary and job content.
Mid-sized companies, which had between 1,000 and 5,000 employees, made up half the 19-rank survey. Six big BPO companies with more than 5,000 employees participated in the survey, while the remaining had less than 1,000 employees.
TCS BPO and 24X7 Customer, which were in the top 10 list last year, fell 4 and 6 places in 2007 to be at number 13 and 16 respectively. Brigade and EXL Services moved up two places each to end at number 10 and 11, respectively. Companies like Infosys BPO, WNS, Intelenet and India operations of the world's largest BPO firms Convergys and TelePerformance did not participate in the survey.
Pay packets trimmed
As the BPO industry is in a cost-saving mode, the average salary hike across the board grew just 14.8 per cent in 2007 as compared to an increase of 17.2 per cent last year. This increased the attrition rate to 20 per cent from 18 per cent in 2006. Nearly one-third of the employees said that salary was the most common reason for leaving a company. About one-fifth of the respondents said lack of growth opportunity (read lack of promotions) made them change their job, the survey points out.
The third most common reason cited by exiting employees was to pursue higher education and job timings. Salary was a big issue in everyday voice-centric call centres, while in the KPO employees put up with lesser salaries as long as the work was challenging and interesting, Dataquest-IDC survey adds. Candidates were attracted to a company because of good work environment, high growth opportunity, good salary and availability of transport facility.
Innovative HR practices
Many companies started a variety of innovative HR strategies to retain their employees, the survey said. Hyderabad-based Brigade appointed a Chief Fun Officer, to look into ways of ensuring low employee stress levels and keeping them highly motivated.
The Dataquest-IDC survey pointed out that the percentage of female employees has steadily come down to 32 per cent in 2007 from 34 per cent in 2006 and 36 per cent in 2005. — TNS