M A I N N E W S
N-safeguards

Kakodkar meets IAEA chief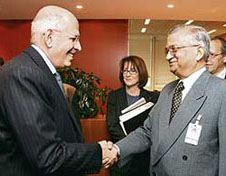 Director-general of the International Atomic Energy Agency Mohamed El Baradei (left) receives India's atomic energy chief Anil Kakodkar at the IAEA's headquarters in Vienna on Wednesday. — AFP photo

Vienna, November 21
India's nuclear energy chief met the International Atomic Energy Agency (IAEA) director-general today in a step expected to lead talks to put Indian reactors under IAEA safeguards after domestic opposition to the deal eased.
In order to launch a nuclear supply deal with the United States, India must submit its declared civilian atomic reactors to regular IAEA monitoring and then win the approval of a multilateral group controlling sensitive nuclear trade.
After months of resistance over fears the deal would weaken India's sovereignty, the communist allies of Prime Minister Manmohan Singh's government relented last week and said moves to seal the accord could be pursued on certain conditions.
Indian Department of Atomic Energy chief Anil Kakodkar made no comment to reporters after the half-hour meeting with Mohamed El Baradei in the IAEA director-general office in Vienna. The UN watchdog agency also had no immediate comment.
Diplomats said the meeting should pave the way for technical negotiations to set up inspections at Indian reactors to ensure they are used to produce peaceful energy only.
A UN official said the negotiations would take some weeks.
El Baradei visited India in October but formal discussions on a safeguards pact did not start because of the communists' opposition.
It was earlier thought the IAEA's 35-nation Board of Governors might approve an India safeguards accord at its regular year-end meeting to be held on Thursday and Friday. But extended political wrangling in India dashed that prospect. — Reuters