Gol Bagh makeover begins
Amritsar, November 23
Minister for health and family welfare, Laxmi Kanta Chawla, inaugurated a beautification and development project for Dr Shama Prasad Mukherjee Park known as Gol Bagh today. The project to be undertaken by the municipal corporation has been sanctioned a grant of Rs 10 lakh by the minister.
Notorious woman drug trafficker in police net
Amritsar, November 23
In a significant breakthrough, the narcotic cell of Amritsar rural police arrested notorious narcotics smuggler Sukhwinder Kaur alias Sukhi, infamous as lady don in the region. She was arrested by the police, after a tip off from Khadoor Sahib Road near Goindwal.


Duhkhakar: If you have this name, you can get rich
Amritsar, November 23
He takes pride in his name. Duhkhakar Singh, who works with a currency trading company, claims to be the only one on the planet with this name. What's more, he is ready to give a cash award to his namesake. "I have spent hours on the search engines, trying to find out if anybody in the whole world shares my name. I'm convinced that nobody shares my name and I have the privilege of having a unique identity," he says.


Duhkhakar Singh
Spiritual guru casts spell
Amritsar, November 23
Thousands of devotees thronged the historic Ram Bagh to seek the blessings of one of the most renowned spiritual gurus, Morari Bapu, who started his week long spiritual discourses with a lot of social and religious messages. In his daily discourse, Morari Bapu had exhorted the people of the country to develop faith and love for the country.


Morari Bapu
Campus Buzz
38th anniversary: GNDU in jubilation mood
Amritsar, November 23
Prof G.S. Randhawa, former vice-chancellor, would preside over the 38th foundation day celebrations of Guru Nanak Dev University on November 24.


Chill Pill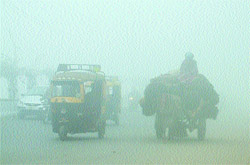 With fog engulfing the holy city, residents had a tough time fighting the cold. — Photo by Rajiv Sharma

Foggy affair: Acid test for drivers
Amritsar, November 23
The chilly gusts of wind hitting the city are an indication that fog is on its way now. The decreasing visibility on roads during dusk and dawn has started turning out to be acid test for drivers and it is essential to have effective fog lights to avoid any mishap.
Strengthen Punjabi to better relations: Pak delegates
Amritsar, November 23
Since Partition we were not allowed to become Punjabis as Urdu language was thrust on the Punjabi community in Lahore and other parts of Pakistan by the powers, said Afzal Saahir, programme manager of the FM 103 Lahore.
Market Buzz
Italian giant to invest in garment industry
Amritsar, November 23 During a visit to the city, the founder of Benetton group of companies Luciano Benetton expressed his interest to invest a big chunk in India. He said he was engaged in detailed discussion with his senior group executives to build a bigger base in India for his garment and other businesses. The company is also keen on developing India as a major source to outsource garments.