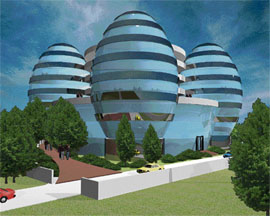 Touch of Green
The concept of 'green buildings' may be in its infancy in Punjab but projects like the Forest Complex at Mohali are sure to set a trend in this regard says Chitleen K. Sethi
In what could hopefully be the beginning of a greener Punjab, the state forest department has planned the construction of state's first "Green Building", the state-of-the-art Forest Complex that will be built on a two-acre plot in Sector 68 in Mohali.
The proposed Forest Complex that will come up in Sector 68 in Mohali.

Good Earth and green homes
At a time when being environment- friendly is the need of the hour, a group of architects and engineers have come together to create eco-sensitive and sustainable community housing models.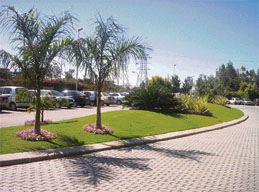 GREEN HOUSE
Let trees breathe easy
Have we forgotten our primary school lesson that the trees are also living beings and need space to breathe and room to grow, asks Satish Narula while pointing out a major landscaping goof-up
Landscape planning is a major part of any new project be it a food park, fashion park, biotechnology park, IT park, education city or film city. And trees are probably the only essential and permanent features of the landscape planning.
Leaving an island between concrete increases tree life. — Photo by Satish Narula
Those who live in glass houses enjoy the sea
Tsunami scare no more haunts those living by the seaside and fancy houses are now the order of the day, says Arup Chanda
With tsunami scare being pushed to the background, there is an upsurge in the number of persons buying houses by the seaside, especially on the East Coast Road, which leads to Puducherry from Chennai via Mahabalipuram.
Zirakpur
Tricity's answer to Gurgaon
No longer a sleepy, dusty Punjab village, Zirakpur is on the threshold of a mall makeover. With several big players eyeing this potential goldmine in the vicinity of Chandigarh, this small township is soon going to be transformed into a shopper's paradise, says Pradeep Sharma

THE TRANSFORMATION: Zirakpur's sleepy village image (above) is undergoing a swish 'mall- makeover'.
Hero group forays into home decor
Amid growing demand for household design, two-wheeler maker Hero Group has ventured into home decor market and initially plans to invest Rs 40 crore to launch 40 lifestyle stores across the country over the next two years.
TAX tips
Daughters have an equal share in HUF property
Q. I am a 69 year old person owning a residential property in a metropolitan city under HUF status duly bought and built by my own capital as being karta. My two married sons and their families are living in the house with me and my wife. I also have a daughter who is married and is settled abroad.
Buzz on Bourses
Unitech to invest Rs 4,000 cr in Mumbai
New Delhi: Unitech Limited, the country's second largest realty firm, has forayed into Mumbai's property market and plans to invest Rs 4,000 crore in the next three years on real estate development. According to company sources, Unitech plans to develop three million sq ft, primarily office space, in Central Mumbai in the next three years and is targeting to construct up to nine million sq ft in the next five years.
Planet Hollywood enters Indian market
Plans hotels in Mumbai, Delhi, Bangalore, Goa & Hyderabad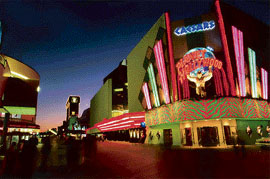 With a long list of shining celebrities and a two-day unique Hollywood-style bash to grab attention, London entrepreneur Robert Earl re-launched Las Vegas Strip mega resort Planet Hollywood and announced going international by starting five such hotels in India on a planned investment of $15 million. Earl, 56, the man who invented the Planet Hollywood restaurant chain in which the famous Hollywood actors like Sylvestor Stallone, Bruce Willis, Demi Moore and others have a stake, said, "We are expanding our restaurants and India, due to its strategic position, was an obvious choice".
India's first global realty fund launched
ING Investment Management India has launched India's first Global Real Estate Fund that would invest in listed real estate companies. The fund will not invest directly in properties but in real estate investment trusts and real estate operating companies.