Carnival rolls in old, familiar ways
Aditi Tandon
Tribune News Service

Students of Government College of Art take part in a procession.

Chandigarh, November 24
Chandigarh Carnival is back with its baggage. As always, most of the stalls seem to have been lifted from a storeroom and placed where they were last year.

This year, however, UT Administration has put up a layout plan at the entrance to tell visitors which stall is where. Inside the Leisure Valley stand old, familiar stalls. There's the senior citizens corner, complete with a mike and a make-shift stage to facilitate elders who love to sing (and youngsters who want to), Friends of Children Corner to help children think smart, Chandigarh Sangeet Natak Akademi corner where one naqaal has been performing for ages and so on ….

There also is the much-loved "Citco da

vehra" and other food stalls - favourite haunts at the Leisure Valley, which looks "not bright enough for a place hosting a carnival". For some reason, the show lacks the "carnival lustre" (read Goa) and doesn't quite manage the visitation it should. This year though, the Leisure Valley grounds were carpeted to prevent dust - a problem that spoilt the show in the past. Also, Eiffel Tower replica was allowed to stay where it is.



Kashmiri artistes wait for the chief guest before the inauguration of the carnival.
In general, the carnival remained predictable as always, with the inaugural remaining a usual affair - with only bureaucrats (adviser Pradip Mehra opened the show) and participants around to cheer one another; residents were far and few though they started to pour in later. They headed straight for stuff the carnival normally offers — a puppet show, camel rides, theatre performance, Aim and Win corner, and "educative" stalls manned by people from Chandigarh Traffic Police, State Legal Services Authority, British Library, ITFT et al.
Highlights of the show included a Canadian pavilion, a section by Haryana Tourism (UT's partner state for the carnival) and artworks by special students, whose creations were prominently displayed at Bal Kriti - a lovely corner put up by UT Education Department. It features works by schoolchildren.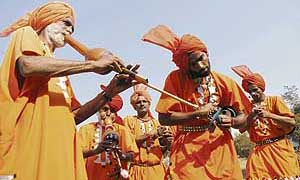 Artistes from Haryana perform during the Chandigarh Carnival at Leisure Valley on Saturday.
Not too far away from here, theatre person Rajiv Mehta's group was busy presenting theatre. He managed to hold the visitors with his "humble, comic productions" which, he says, attracted 60,000 visitors at a show in the USA! Only he could have guarded against some dialogues being delivered, like this one — "Kyun? Tu raja ke paas kyun nahi jaana chahta? Kyunki usko AIDS hai?" UT AIDS Control Society, which spends crores to de-stigmatise AIDS, would not like this, nor would volunteers working to mainstream people living with HIV.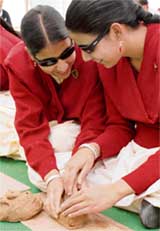 Students of Blind Institute, Sector 26, take part in a clay modelling competition. — Tribune photos by Pradeep Tewari

Rest is fine so long as the show goes on.
SIDELIGHTS
Floats by Art college students stole the show at the carnival parade. Students only wished there were more people to witness the creations.
Chandigarh College of Hospitality, Landran, prepared the cuisine at the Canadian pavilion. Students were proud to host UT adviser and food favourites included yellow pea soup and tomato consomme.
Whatever happened to the ban on employing children below 14? For answers, visit Leisure Valley.
Some veteran artists complained that the administration paid them only Rs 1,000 for participation, mocking at their experience. They want the administration to properly catalogue and exhibit hundreds of artworks they have created during carnivals in the past.