For them realty rocks
Peeyush Agnihotri
Moguls of Real Estate
by Manoj Namburu; Roli Books; Pages 270. Rs 350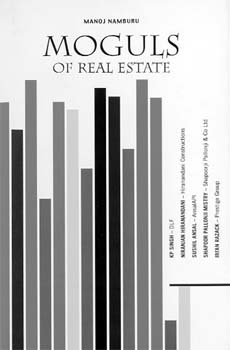 IN late 1980s, the usual refrain on Dalal Street was "invest in everything where machinery ticks (manufacturing sector)." The catchphrase changed to "invest in everything where mouse clicks (dotcom and IT)" in late 1990s. Ten years down the line, the buzz is to "invest in everything that consumes bricks" (construction and real estate).
The timing of the book under review, written by a person who is the CMD of a 24x7 real estate television channel, couldn't have been more apt. It was just last week that Forbes magazine came out with the list of seven Indian real estate developers who have a net worth of over a billion dollar each. Two of them — K.P. Singh and Niranjan Hiranandani — find mention in the book that takes a closer look into the entrepreneurial adventure of five stalwarts of the real estate industry.
Coincidentally, both Forbes-listed entrepreneurs come from intellectual families. While K.P. Singh's father was a lawyer, Niranjan's doctor father was an ENT specialist. The author has touched upon the highs and lows of the lives of K.P Singh (DLF), Niranjan Hiranandani (Hirco), Sushil Ansal (Ansal API), Shapoor Pallonji Mistry (Shapoorji Pallonji and Co) and Irfan Razack (Prestige Group), all institutions within themselves.
The five terse biographies show that it was not roses all the way for these moguls. It has been a series of accidents and encounters for DLF's K.P. Singh. According to Singh, who now is the fourth richest Indian with a net worth of $35 billion, 3Gs (Gurgaon, GE Electrical and Rajiv Gandhi) have played a key role in his life. A student of physics, the book discloses how polo unlocked the doors of the Indian Army for Singh, how he once planned to run away from IMA, Dehra Dun, and how commanding officer's soothing speech made him work to win the coveted Best Cadet award.
A severe bout of hepatitis changed his career and Singh joined his father-in-law's realty business that had been clamped by the draconian Indian laws. The DLF part of the book is replete with anecdotes: Singh's accidental meeting with Rajiv Gandhi where he was able to convince the latter on private builders' participation in townships; and how the realty king once had to drink a glass of milk with fly in it while clinching a multi-acre deal in a village.
The Hiranandani part of the book reveals how Niranjan, a chartered accountant who hailed from a renowned family of doctors, made the right choice by picking realty over textiles. The group's focus has been timely completion of projects and implementing the right kind of floor surface index in projects, in which India severely lacks.
For Ansals, it has been a rags-to-riches story spanning over two generations. Two major fire incidents — one in Ansal Bhavan in 1987 and another in Uphaar in 1997 — have been the nadirs of the Ansal saga, which otherwise is a sequence of industrious events, worth emulating. What strikes the reader while moving on to Shapoor Pallonji Mistry's part is his contrarian philosophy. "Buy when nobody wants to buy and sell when nobody wants to sell." His realty journey otherwise has been of being born with a silver spoon in mouth and remaining with one throughout. The family had worked for the likes of Dr Bhabha for constructing a nuclear establishment. The author also notes the family's brush with Bollywood, where the grandfather helped in the making of Mughal-e-Azam and the grandson getting it digitally remastered into colour in 2004. The author details how Irfan Razack, who has changed Bangalore's skyline, has matured since 1980 when he sold the first piece of personal property and didn't know what the word khata (ledger) stood for. In a nutshell, IT made Bangalore and also Razack. Hailing from a retailer's family, realty developments in Bangalore post-1993 made this avid sports enthusiast sit up and take notice.