Unbridled violence in Nandigram, where the West Bengal government had forcibly tried to acquire land for industrialisation, bared the coercive power of the state at its worst. Subhrangshu Gupta on the simmering cauldron that Nandigram has become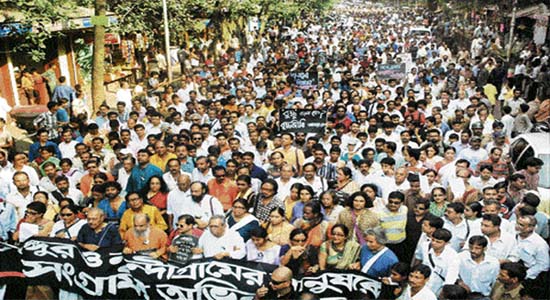 THEY say when Nandigram flares, Buddhadeb Bhattacharjee attends film festivals at Nandan, just as Nero had fiddled while Rome burned. In the 1970s during fervent Naxalite activity in Bengal, when the cadres and their Red Masters were forced to leave their houses, they faced the ordeal of a life riddled with fear and hunger while they were underground.
Savour the Arab flavour
A holiday in the Gulf? Why not, try the unspoilt silver-sand beaches and striking desertscapes
of Oman. And, the icing on the cake is the capital Muscat, which is a shopper's delight,
says Gyan Marwah
Oman is called the Hermit of the Gulf. Friendly smiles greet visitors everywhere in this country that must be one of the most attractive travel destinations in West Asia. It offers visitors rugged mountains, silver-sand beaches and striking desertscapes. The topography is varied and breathtaking.
The benign aura of Mount Abu
A scenic getaway for vacationers, Mount Abu is also a much-visited pilgrim centre and a hotspot with trekkers and adventure sports lovers, says Kiran Soni Gupta
AN everlasting source of unbounded beauty and serenity lies in the Abode of Gods — Mount Abu. Part of Sirohi district, it is 29 km away from Abu Road Railway Station and 220 km from Jodhpur. Ascending the mountains covered with gigantic rocks and towering trees, the most scenic landscape awaits you.
Indian art at Christie's
Uma Nair
Christie's forthcoming Asian contemporary art sale, which is to take place in Hong Kong on November 25 will offer 327 highly-coveted works by some of the most celebrated artists of the region, including notable Indian artists. The sale showcases the great variety and diversity of Asian contemporary art, ranging from paintings and mixed media to sculptures and photography created in different forms, media and styles.
Romancing the train
Whether it's love stories, action thrillers or murder mysteries, the railway continues to be the right way for many a filmmaker, writes Vikramdeep Johal
A chance meeting between two strangers. It's hate at first sight which gradually turns into friendship and eventually love. Jab We Met revolves around the lead pair of Kareena Kapoor and Shahid Kapoor, but no less important is the "character" which brings them together — the train. No wonder director Imtiaz Ali has called his film an advertisement for the "Great Indian Railways".
Stage set for Shekhar's queen
Shekhar Kapur's Elizabeth — the Golden Age brings out the human element of the controversial Virgin Queen without unnecessary flourishes, writes Ervell E. Menezes

director's sPECIAL
Internationally acclaimed filmmaker Shekhar Kapur could well be a great stage actor because he is able to feel the pulse of the audience. In Mumbai for the release of Elizabeth — the Golden Age, he was over an hour late for his appointment (jet lag and the Mumbai traffic were cited as reasons) but when he received a feeble applause he at once knew the reason why.



first impression
Five years after the success of Elizabeth, they've decided to make another film on the middle years of the Virgin Queen and they are quite likely to end up with a trilogy. It is all about marketing and hence this spate of sequels in the last three decades but then in doing so the subject is likely to lose its freshness. Elizabeth launched both filmmaker Shekhar Kapur and Cate Blanchett to international fame.


SOCIETY
The glorious crusader
Rehana Sultana has been advocating the protection of the educational, legal and social rights of Muslim women and against the practice of talaq (divorce) and contract marriages. She is the founder of Glorious Deccan School, which today has 400 students, writes Neeta Lal
Located in the labyrinthine lanes of Dabeerpura in Hyderabad's old city, Glorious Deccan School (GDS) seems like yet another non-descript teaching establishment. But step inside and its uniqueness is unmistakable. For not only is it a co-educational school — the first to be established in this communally tense Muslim-dominated part of the town — it also has a near-zero dropout rate.
Spas that promise peace and health
Want a complete body-mind experience? Then visit a spa. There is nothing quite
as invigorating as spending a few hours getting yourself pampered in these luxurious fitness centres, says S. S. Chandran
NEED a break but have no time to go vacationing? The answer is new age spas that have sprung up in major cities that promise to take the load off one's mind and body. They guarantee you an experience of rediscovering the old-fashioned health benefits of sun, sand and water packaged with a lot of gloss.