Stage set for Shekharís queen
Shekhar Kapurís Elizabeth ó the Golden Age brings out the human element of the controversial Virgin Queen without unnecessary flourishes, writes Ervell E. Menezes
directorís sPECIAL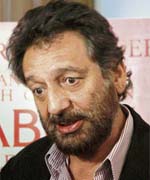 Shekhar Kapur
Internationally acclaimed filmmaker Shekhar Kapur could well be a great stage actor because he is able to feel the pulse of the audience. In Mumbai for the release of Elizabeth ó the Golden Age, he was over an hour late for his appointment (jet lag and the Mumbai traffic were cited as the reasons) but when he received a feeble applause he at once knew the reason why.
Shekhar at once apologised for the delay and thus put his audience at ease but once he spoke of his new film he at once weaned the audience over. Yes, he is intense, deeply artistic and also has a sense of humour. And, of course, one cannot question his commitment to his art. On the dais with music director A. R. Rahman and the Paramount (distributors of the film) officials he explained how he asked Rahman to imbue that element of yearning in his music. It also provided the film with an oriental flavour. Rahman also said the commitment to quality is greater abroad than in Bollywood.
When the proceedings were interrupted with the ringing of mobile phones, he retorted by saying "lend that to me." But later he became more friendly and said his daughter had a mobile which kept repeating, "Daddy, I love you, daddy I love you" and this instantly disarmed the audience. He appears to be a master of human psychology.
But to get to his new film which deals with the middle years of Queen Elizabeth, he thought it was more mythical than the first one. "When a character gets into mythology, becomes an icon, it is hard to make it human. So you take aspects of that character," he went on. Shekhar also thought that history is an interpretation of history, which is an interpretation of history (and you go on and on).
He did not think he was overkind to Elizabeth. He only wanted to bring out the human element. When he finished The Golden Age, he received a script of Mary Queen of Scotts and it was totally different.
"Now whom do you believe," he asks and follows it up with another analogy about the defeat of the Spanish Armada. "Was it Sir Francis Drake or the storm," he asks and donít we know that history is often written by the winning side?
Again going back to the new film, he refers to the scene in which Sir Walter Raleigh throws his cloak for the Queen to cross a puddle. "Would any of todayís leaders allow such a thing? Manmohan Singh or George Bush, for example," he went on amid applause.
That Shekhar works on other films in between is too well known but he seems bent upon finishing the trilogy and Cate Blanchett is young enough to complete the third film. "Oh yes, Iím besotted by Cate. Now have you got your headline for tomorrow," he asked.
But Shekhar is keen on making a good film in India. His seven-year-old daughter, when asked about this film, said yes "it is nice" almost politely. But he wants to make something special for her. Another subject that interests him dearly is water or Pani as the film will probably be called. "I have stopped drinking bottled water because it is all about the privatising of water," and goes on to explain the many problems that arise out of the unavailability of water.
The Golan Heights, the river disputes are all about the need for water and in this new film half the village closely guards its limited water resources. It is a subject close to his heart and this came across palpably.
May be the third film of the trilogy would make Shekhar go into a different mode and the film on water could be a major landmark. "Iíve done with pre-sold characters," he said near tiredly. But another big desire of his is to see Indian cinema (doesnít call it Bollywood) get international recognition. On that issue, we are with you Shekhar Kapur.