Savour the Arab flavour
A holiday in the Gulf? Why not, try the unspoilt silver-sand beaches and striking desertscapes of Oman. And, the icing on the cake is the capital Muscat, which is a shopper's delight,
says Gyan Marwah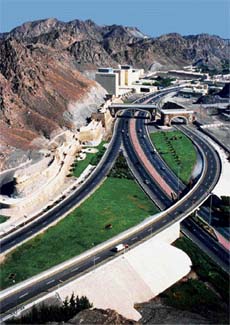 Multiple highways link all major cities in Oman — Photo by the writer
Oman is called the Hermit of the Gulf. Friendly smiles greet visitors everywhere in this country that must be one of the most attractive travel destinations in West Asia. It offers visitors rugged mountains, silver-sand beaches and striking desertscapes. The topography is varied and breathtaking.
Natural wonders abound all around. Gorges, caves, hot springs, wadis (rivers) and over 1,600 km of coastline virtually beg to be explored. The 900-year-old Omani capital Muscat is easily accessible to Indian travellers via a two-hour-30-minute flight from Delhi. The city offers a variety of touristic options. You can swim, scuba dive, go sailing or fishing, trek in the mountains or sunbathe on the magnificent Al Qurum beach. You can watch bullfights (bloodless) or camel races or ride a camel yourself.
There are over 500 forts and towers in Oman which bear witness to the region's history. The government is actively restoring many of these ancient forts which have been ravaged by the passage of time.
One of the most spectacular forts in Oman is the Nakhal Fort which is dramatically located on the edge of a mountain in northwest Oman with a stunning oasis and hot spring nearby. Don't miss the trip to Mirani and Jalali — two forts built by Portuguese, who occupied Oman for over a century before being expelled in 1650.
The sultanate lays great emphasis on environmental protection. In pro tected reserves around the country, a fascinating range of wildlife thrives. Muscat also has one of the best aquari ums in the world, housing nearly all the aqua species native to Omani waters.
Oman's pride is its splendid coastline with long stretches of sandy beaches. You can go hunting for seashells in the warm waters. Sailboats can be rented at the beach hotels and marinas; also available are offshore cruising and scuba-diving facilities.
Handicraft lovers have much to look forward to in Oman. Artistic sensibility runs deep in Omani culture which is reflect ed in their architecture, rug weavings and jewellery designs. The favourite souvenirs for visitors to Oman are tribal rugs, silver coffee pots and khanjar (silver dagger).
The shops stock a range of designer clothing, traditional Omani garments, handcrafted jewellery, antiques, and a host of consumer goods and foodstuff imported from West Asia and South-east Asia. In recent times, there has been a sig nificant expansion of shopping facili ties in Oman and the ever-increasing number of modem malls in Muscat offers travellers an endless choice.
The appeal of shopping malls over the souq (traditional market) owes to the former's air-conditioned comfort and space. Thus, apart from a few souqs such as the famous Mutrah in Muscat, most have made way for mod em outlets.
But don't miss the delight of walking around a traditional souq. Spend an afternoon looking for bargains, walk around the local fish market and round off your outing with a cup of khawa (local tea) at a small roadside eatery.
Ultra-modem, multiple highways link all major cities in Oman. Thus any visit to the country is incomplete without a trip to Salalah in Dhofar district in the extreme south. A major tourist attraction, it is the only place in the Gulf which catches the Indian monsoon. Because of an abundance of water, there's a host of flora and fauna and the area is lush and green. Close by are the 'green mountains' called Jabal Akhdar, whose peaks of green-tinted rocks rise up to 10,000 feet with some of the most stunning waterfalls in the world.
This region has the largest number of frankincense trees in the world. Several expensive perfumes are made out of the aromatic gum exuded by this tree.
The dress is traditional. Men wear light blue or white floor-length shirts called dishdashas with curved khanjar dangling from the waist, while women wear floral or black silk robes.
A strong patriarchal society prevails in Oman although women wield immense influence over family matters. Unlike in some other Muslim countries, women in Oman play a prominent role in the government and private sectors. Young ladies are working in the forefront and travel worldwide to project Oman as a land of business opportunities.
The country remains distinctively Arab in look and sound. The air is flavoured with the smell of Arabian spices and the sound of the muezzin calling the faithful to prayers. Indeed, Oman is a country waiting to be discovered. — NF
Fact file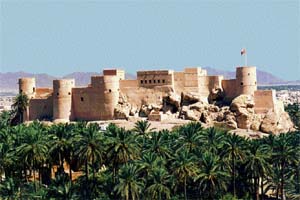 Nakhal Fort is one of the most spectacular forts in Oman — Photo by the writer
How to get there: Leading airlines have direct flights to Muscat.
Where to stay: There are a variety of hotels to choose from. A budget room costs around $25. A three-star room costs about $75 while a top-end hotel about $ 150.
When to go: Mid-October to mid-March. It is best to avoid going between April and September because of the heat.
Language: Arabic, Swahili, Hindi and English are widely spoken in most cities.
Dress code: Non-Omanis are free to wear any clothes. However, as a courtesy to local tradi tions and your comfort, it is advisable to wear shoulder and knee-covering cotton or linen clothes when entering public areas.