Society
The glorious crusader
Rehana Sultana has been advocating the protection of the educational, legal and social rights of Muslim women and against the practice of talaq (divorce) and contract marriages. She is the founder of Glorious Deccan School, which today has 400 students, writes Neeta Lal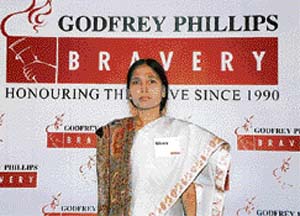 Educationist and lawyer Rehana Sultana is spreading awareness amongst Muslim women and children of the Dabeerpura area of Hyderabad's old city.
Located in the labyrinthine lanes of Dabeerpura in Hyderabad's old city, Glorious Deccan School (GDS) seems like yet another non-descript teaching establishment. But step inside and its uniqueness is unmistakable. For not only is it a co-educational school — the first to be established in this communally tense Muslim-dominated part of the town — it also has a near-zero dropout rate. To top it all, the Secondary School Certificate (SSC)-affiliated institution also offers adult education and family counselling to poor and marginalised women, and scholarships to bright, underprivileged students.
"The idea behind the school was to empower the Muslim girl child socially and economically," explains Dr Rehana Sultana, 50, founder of GDS and head of the Department of Women's Education, Maulana Azad National Urdu University, Hyderabad.
A law graduate, Sultana has been advocating the protection of the educational, legal and social rights of Muslim women and against the unfair practice of talaq (divorce) and contract marriages. She began her drive against the pugnacious and regressive practice of contract marriages of minor Muslim girls with Arab sheikhs.
The feisty activist has also been offering legal counselling to women in cases of dowry harassment, divorce, property rights, child and widow remarriage, and child custody.
That's quite an agenda for a woman coming from a ''conservative, lower middle class family, married off at 15 and divorced at 16". "Due to an early marriage," recounts Sultana, "I was not even able to complete school. But I was keen to pursue higher studies and continued studying after my divorce."
Not letting traditions come in the way of her ambitions, Sultana cleared her SSC exam and enrolled for a law degree. In the meantime, she also thought of spreading the light of education amongst underprivileged children in her locality. With the assistance of a local NGO — Deccan Society — and a handful of students, she started a modest primary school at her Dabeerpura residence.
In the beginning, she had to regularly visit the parents and cajole them to send their girls to her school to ensure a brighter future for them. "In Muslim-dominated Dabeerpura, girls' education was taboo. I took special care to ensure that there were no dropouts amongst the girls," says Sultana.
Soon word spread about the school's good work and it morphed into a full-fledged, SSC-affiliated body with about 150 students. Today, 400 students have been enrolled, out of which 300 are girls. Although GDS is co-educational, Sultana's focus has unambiguously been the girls. The idea behind enrolling boys in GDS was to ensure that "young girls become confident while interacting with members of the opposite sex".
In addition to the regular courses, GDS offers distance education programmes. Special coaching classes for girls keen to appear for class VII and SSC exams as private candidates are also organised.
"A lot of Muslim girls find it tough to pursue college education, partly because of socio-cultural problems and partly because of the high fee structure," she discloses. So, Sultana arranged for Oriental University exams (Urdu medium) at GDS. Later, she registered her school as a centre for Jamia Urdu, Aligarh (a deemed university), Osmania University and Idara-e-Adabiyat (a premier institute of Urdu research).
However, such profound changes brought their share of brickbats. Sultana discloses that she had to face constant threats from the local qazis who accused her of 'misguiding' the girls in the community. Occasionally, there were murder threats from the local goons as well. "Initially," she admits, "I had to face stiff opposition. But they slowly warmed up to me and began appreciating my efforts."
Sultana took her work a step further by establishing a health care clinic for the poor women in the area. She underwent paramedical training so that she could render medical advice. Today, her clinic doubles up as a crucible for counselling illiterate women on the importance of education as well as offering legal advice. "All my cases are settled according to the Shariat (Muslim laws)," she claims. "My intention is not to break women away from the Shariat. In fact, I interpret their problems and always try and find solutions within the ambit of the law."
Sultana soon realised that providing opportunities for academic growth was not enough. "I wanted these women to carve a separate identity for themselves and be economically independent," she elaborates. Thus came about the vocational courses, such as tailoring and embroidery. The courses encouraged the women towards establishing small businesses.
The community that had once ridiculed Sultana as an iconoclast now has tremendous faith in her. They come to her for advice and good counsel. "It's been a long journey," reminisces the educationist. "Over these years, I've chaired innumerable conferences and public meetings at national and international fora to speak about women's empowerment. I feel the route to women's enlightenment lies through education. Even the Koran says:'' Learn from the cradle to the grave''. This has been my motto in life." — WFS