Society
Spas that promise peace and health
Want a complete body-mind experience? Then visit a spa. There is nothing quite as invigorating as spending a few hours getting yourself pampered in these luxurious fitness centres,
says S. S. Chandran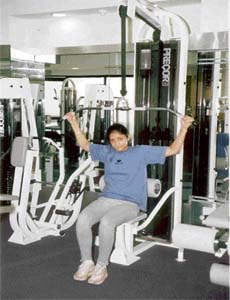 Total fitness: Most spas come with fully equipped gyms
NEED a break but have no time to go vacationing? The answer is new age spas that have sprung up in major cities that promise to take the load off oneís mind and body. They guarantee you an experience of rediscovering the old-fashioned health benefits of sun, sand and water packaged with a lot of gloss.
The word spa is drawn from Siena Par Aqua ó Latin words meaning healing with water. But are spas really good for you, or are they just for those with money to burn? Experts say that gyms are only for the body while spas are for both mind and body.
Unlike gyms, spas have a lot more. Their plush interiors resemble a luxury hotel and the services offered are no less. Here clients are treated like royalty. Many have staying facilities where people can spend a leisurely weekend or more.
For those who want to shed kilos there's usually a fully equipped fitness club and a yoga and aerobic studio. Most have what is termed an aqua aerobic pool that is ideal for aquatic exercises. Then there's the jacuzzi and a heat treatment suite with sauna and steam. There are also body massages, body wraps and body scrubs.
To pamper, tone and beautify the face and body, these spas offer exclusive treatments, seaweed wraps and hydrotherapy baths, a wide range of facials using fruit acids, pure plant oils, marine nutrients and collagen.
The treatments have three major components---water, massage and mud. The water is bathed in or soaked in the body through a steam bath. Massage can include aromatherapy and underwater jets. In mud baths one is covered in natural clay that has matured with bacteria and algae to create a biologically active and mineral-rich potion.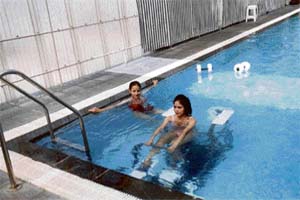 Aqua aerobic pool: Ideal for water exercises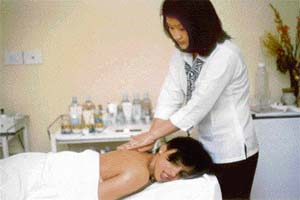 AT PEACE: A massage releases all tensions from your mind and body
Specially treated mineral water and mud stimulate the skin to produce new and healthy tissues. Mineral-enriched water is also said to reduce blood cholesterol. Mud therapy has been shown to stimulate cartilage re-growth.
Couples keen to de-stress and spend a relaxing weekend or afternoon together frequent these spas. This, in part, because spas are health rather than beauty oriented, and so hold an appeal for both sexes. They are less about physical strength and more about de-stressing as they mainly cater to one's inner health and well-being.
According to Mehernosh Dastur, proprietor of Shoonaya, a newly opened spa in Mumbai, "places like ours cater to those who donít have the time to take off to Kerala for a herbal therapy but still wish to avail the benefits of one."
Says Meeta Venkatesh, a high-flying tour operator who is an annual member here: "I first go for an invigorating aroma oil massage, then steam myself and I follow it with a jacuzzi for a jet blitz. This routine de-stresses me completely."
But the bad news is that spas don't come cheap. A full day at one of these places could cost a minimum of Rs.2000 apart from the services one avails of. One can also opt for membership wherein one has to pay an yearly amount starting at around Rs 85,000. But there are again plenty of schemes to choose from depending on the amount money one likes to spend.
"To help understand the high perceived cost, think of it as employing your own top class personal trainer, masseur, beauty consultant, dietician and butler... all rolled into one," says Dastur.
The best spas in the world are those that immerse you in healthy living. All-inclusive prices would include rooms, meals, lectures and treatments. Here people can jumpstart a healthy new lifestyle. The facilities of the top spas can include medical doctors, exercise physiologists, movement therapists and more.
At destination spas, the whole environment is geared towards fitness, healthy eating, relaxation and renewal. You will be with like-minded people in a total "immersion" experience.
At Spectrum Spa & Wellness Centre in Bangalore the treatment starts with foot reflexology---a technique where the feet are massaged to invigorate or activate various nerves that control the body---and is followed by a Swedish massage. Facial, mud bath and hot aromatic oil fumigations put people into blissful sleep.
For those who can afford it, a visit to the spa is surely an experience worth cherishing. The soothing ambience enriched by the smell of aroma oils, soft music, dim lighting and warm towels makes one feel completely at ease. Some spas also offer health cafes where most of the food has to pass the strict muster of a trained dietician.
"Spas are the ideal place for people who have high-powered and stressful professions. This is a place that demands no deadlines and promises complete relaxation," says Dastur Singh, who calls them the new fitness mantra. He adds: " They are not just about fitness and herbal treatments. Visiting a spa means taking time out for yourself, listening to the sound of your heartbeat and enjoying your inner peace." ó NF