Ulta Pulta
Quick change plan
Jaspal Bhatti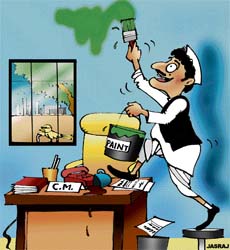 SAB badal daalonga', the new Chief Minister announced as he took his charge of the state. First he ordered that the colour of the walls of his office be changed followed by new curtains and placement of his office table.
Every CM wants to show the public that he had made some major changes in his state during his tenure. Of course, the police chief, chief secretary, and secretaries of important portfolios are changed to create an atmosphere of 'Yes Ministership'.
B.S. Yeddyurappa, the new Chief Minister of Karnataka, recently took his senior officials to a resort for a brain-storming session to work out strategies for the state. It's a different matter that he might have felt leaving most of the babus confined to the resort for the betterment of the public.
I don't understand why he thought of taking them to a local resort. He should have instead taken them to Switzerland or Las Vegas for the better planning of Karnataka. I think it is a good idea for a CM to take all his MLAs abroad before they get down to real work at home. At least they would not waste time and energy in inventing excuses for their tour programmes abroad, for the first few months.
A senior IAS officer went to an astrologer to get his name changed. He said, "Panditji change my name to Anil from Sunil. The astrologer asked, "Aap apna naam kyon badalna chahte hain? Aap ke liye to S bahut lucky hai!" The officer said, "The new chief minister has announced that he will appoint a chief secretary whose name starts with an 'A'"