PUNJAB

HARYANA

JAMMU & KASHMIR

HIMACHAL

REGIONAL BRIEFS

NATION

OPINIONS

MAILBAG

BUSINESS

SPORTS

WORLD
Monday, November 26, 2007, Chandigarh, India
Updated at 3:00 am (IST)

Sharif lands back in Pak
Lahore, November 25
Helped by Saudi Arabia, former premier Nawaz Sharif returned home this evening after a seven-year exile and quickly confronted President Pervez Musharraf saying emergency conditions were "not conducive" for free and fair elections in Pakistan even as he vowed to end "dictatorship".



Benazir files papers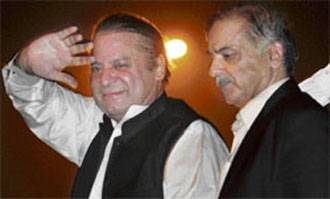 THE HOMECOMING: Former Pakistan Prime Minister Nawaz Sharif is watched by his brother Shahbaz Sharif (right) as he salutes his supporters outside the Allama Iqbal International Airport in Lahore on Sunday after their arrival from Saudi Arabia. Nawaz Sharif returned home from exile vowing to end "dictatorship" in his country and to campaign for democracy. — AFP
3 killed, 18 injured in Assam blasts
Guwahati, November 25
Three persons were killed and 18 injured in separate bomb explosions triggered by suspected ULFA militants in different parts of the state, including one in Guwahati city this evening.



Call for 36-hr Assam bandh
JeM militants planning another strike
in India?
New Delhi, November 25
With security agencies foiling their attempt to abduct a prominent Indian leader, militants of the terror outfit Jaish-e-Mohammed (JeM) may be planning yet another strike, a top official has said on the basis of intelligence inputs.
CAST YOUR VOTE
Should more stringent punishment have been awarded for the Uphaar tragedy?

ADVERTISEMENT


CHANDIGARH

LUDHIANA

BATHINDA

JALANDHAR

DELHI

HIMACHAL PLUS

HARYANA PLUS

AMRITSAR PLUS

LIFESTYLE

BRIDES WANTED

GROOMS WANTED

OTHERS

HOW TO PLACE ADVTS
HOROSCOPE

Indian protesters face police ire in Malaysia
Kuala Lumpur, November 25
The Malaysian police today fired tear gas and water cannon to prevent thousands of ethnic Indians from taking part in a rally, declared 'illegal' by the government, outside the British High Commission here.
Next round of talks with IAEA to resume soon
Vienna, November 25
Indian negotiators during technical talks with the IAEA officials on India-specific safeguards did not spell out any specific mode of their approach, keeping several veterans on safeguards here and back in India guessing what would be the modalities that are being discussed.
Mayawati leaves her mark on Mumbai
Mumbai, November 25
In a loud and clear indication that Maharashtra is next on the radar of the Bahujan Samaj Party (BSP), Uttar Pradesh Chief Minister Mayawati mobilised a respectable crowd in the heart of the city in a show of strength that will have political implications in the days to come.

E - Revolution 2005:
A Two-day IT conclave

Assembly Elections - 2005

Turbans

Chandigarh is 50

125 Years of The Tribune
India: The Tasks Ahead

EARLIER FEATURES

Cattle face death during transportation
Kurali, November 25
Milch livestock bought from Punjab animal fairs fall victim to traffic jams on national highways. Young calves many times end up losing their lives to the traffic in areas of Delhi, Saharanpur, Muzaffarnagar and Yamunagar. Loss of life of a calf not only costs its trader dear, but even the mother of deceased ends up yielding less milk than usual, leading to a sharp decline in its re-sale price.
Faith steered Ishmeet to fame
Ludhiana, November 25
There is no end to congratulatory calls that Dr Charan Kanwal Singh, uncle of Ishmeet Singh, who was crowned "Voice of India" last night, is receiving. And the moment is joyous not just for this family, but for the industrial town as well, which celebrated Ishmeet's victory, declared late last night, by bursting crackers, beating of dhol and dancing. Now that he has won, Ishmeet will start working as per his contract with Big Music. He will also be visiting the city on December 2.
1 killed, 200 hurt in clashes
November 25, 2007
Serial blasts in UP
November 24, 2007
10-year RI for four militants
November 23, 2007
Nandigram boils in Kolkata
November 22, 2007
Ansal brothers, 10 others convicted
November 21, 2007
Guv favours Central rule in Karnataka
November 20, 2007
Justice R.S. Pathak passes away
November 19, 2007
Propaganda on N-deal false: Manmohan
November 18, 2007
IAEA talks on
November 17, 2007
Govt may go to IAEA
November 16, 2007