M A I N N E W S
Sharif lands back in Pak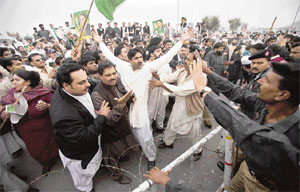 Supporters celebrating the return of former Pakistan Prime Minister Nawaz Sharif try to get past police barricades at Lahore's Allama Iqbal International Airport on Sunday. — Reuters
Lahore, November 25
Helped by Saudi Arabia, former premier Nawaz Sharif returned home this evening after a seven-year exile and quickly confronted President Pervez Musharraf saying emergency conditions were "not conducive" for free and fair elections in Pakistan even as he vowed to end "dictatorship".
The second homecoming of 57-year-old Sharif in three months in a fresh challenge to Musharraf was marked by scenes of chaos among thousands of his frenzied supporters at the Allama Iqbal airport here after he flew in by a special airplane provided by the Saudi Royal family at 6.15 PM (6.45 p.m IST) amid tight security.
Flying home with the apparent approval of Musharraf's government after a first attempt on September 10 ended in him being booted out to Jeddah within four hours after arrival, Sharif appeared to strike a confrontationist note with the President when he ruled out serving under him.
"No,no,no, no question," Sharif told an international TV channel when asked if he would agree to a power-sharing deal with Musharraf as President and and him as Prime Minister. He also urged Musharraf to create a "level playing field" for the January 8 Parliamentary elections.
Saudi leaders reportedly had an understanding with Musharraf that the military ruler accept the PML-N leader and take him back to the country.
Sharif put at rest speculations about a deal with Musharraf when he told reporters "My return is not the result of any deal. My life and death are for Pakistan." He also told state television that conditions in Pakistan are "not conducive" for free and fair polls.
"I am here to play my role and also make my own efforts to rid the country of dictatorship," Sharif told the BBC from aboard his plane after he landed in Lahore. He was accompanied by his wife, brother and several of his family members.
Pressing his demand for lifting emergency, Sharif told reporters "I think the Constitution of Pakistan should be restored, and there should be rule of law." He also said the deposed judges of the Supreme Court be reinstated to ensure the transition to civilian democracy.
Addressing his partymen, Sharif said "I want to strengthen democracy and rule of law. We want democracy, nothing else," he said.
Sharif, wearing a white traditional Pakistani tunic overlaid with a black waistcoat, was seen beaming and waving to jubilant supporters packed into the arrivals hall at Lahore. He has been living in Saudi Arabia for the past seven years since he went on exile.
An aide quoted Sharif, the man Musharraf ousted in a coup eight years ago, as saying "I am very happy to be back... it is the best moment of my life."
Declaring that he did not believe in politics of "vengeance", Sharif said "we will fully participate in the national politics", indicating that his party will contest the general elections for which the filing of nominations will end tomorrow. — PTI

Benazir files papers
Afzal Khan writes from Islamabad
Candidates of most political parties, including some top leaders, on Sunday began filing nomination papers amid prevailing uncertainty regarding plans by the opposition to boycott the polls unless its conditions are met within four days.
PPP chairperson Benazir Bhutto, JUI chief Maulana Fazlur Rehman, ANP president Asfandyar Wali Khan and several others submitted their papers to returning officers in respective constituencies.
Most leading figures, including Bhutto, Fazl, former Punjab chief minister Chaudhry Pervez Elahi, former federal ministers Shaikh Rashid Ahmed, Hamayun Akhtar and Ejazul Haq, are contesting elections on more than one seat. Pervez Elahi, who has been projecting himself as candidate for future prime minister, has also filed paper for a provincial seat.
The PPP and other opposition parties have filed papers pending final decision for boycott of the polls. But Bhutto on Sunday said that her party was unlikely to boycott and leave the field open to Musharraf's allies.
But PPP information secretary Sherry Rehman said the party had not abandoned the option of boycott. She said PPP candidates have filed their nominations under protest. The party is still continuing contacts with other opposition parties and the final decision would be taken when these contacts conclude.
Sherry also dispelled the impression that the PPP is not pressing for reinstatement of deposed judges, including chief justice Iftikhar Chaudhry. She said the party fully backs demands for revoking all orders and constitutional amendments made after emergency. It would continue to press for returning to pre-emergency conditions, Sherra said.
Meanwhile, exiled premier Nawaz Sharif in a TV interview prior to his departure from Jeddah on Sunday regretted that Bhutto was still not clear about the boycott and urged her to join the rest of the opposition in the struggle to end military rule of Gen Musharraf.