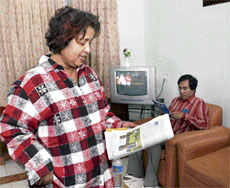 Taslima ready to return to Kolkata
Says no official word yet
New Delhi, November 25
Controversial Bangladeshi writer Taslima Nasreen is understood to have expressed her desire to go back to Kolkata but she is yet to hear from the West Bengal government on its readiness to welcome her. Asked by the All-India Progressive Women's Group's general secretary Kumudini Pati about the invitation extended to her by the West Bengal government, Nasreen said nothing of this sort has been communicated to her.
Controversial Bangladeshi author Taslima Nasreen and her brother Faizal at the Rajasthan House in New Delhi on Sunday. — PTI

Govt to arrange Taslima's return, stay: Buddhadeb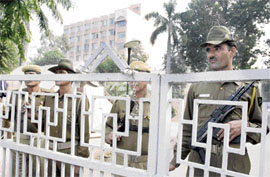 Kolkata, November 25
Buddhadeb Bhattacharjee today broke his silence on the Taslima Nasreen's "eviction issue" by saying that the state government would arrange her return and stay in the city if she so desired. He denied that she had been forced to leave Kolkata. Bhattacharjee made these remarks while addressing a CPM rally at Siliguri town in Darjeeling today.
Security personnel deployed outside the Rajasthan House in New Delhi on Sunday, where Bangladeshi writer Taslima Nasreen was staying for the past two days. — Tribune photo by Manas Ranjan Bhui

Government may make a statement today
New Delhi, November 25
The government may make a statement in Parliament tomorrow on the issue involving controversial Bangladeshi writer Taslima Nasreen.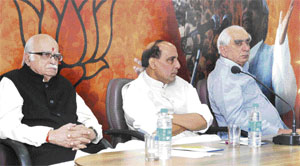 Leader of opposition in the Lok Sabha L.K. Advani, opposition leader in the Rajya Sabha Jaswant Singh and BJP president Rajnath Singh during office-bearers' meeting in New Delhi on Sunday. — Tribune Photo by Manas Ranjan Bhui
Row Over Taslima
BJP for political refugee status to Taslima
New Delhi, November 25
The BJP today demanded the status of a political refugee for controversial Bangladeshi writer Taslima Nasreen. In a political resolution adopted at a meeting of its office-bearers, the party today said Taslima was entitled to all rights given to Tibetan refugees in the country.
Rehabilitation policy to protect agri lands flayed
New Delhi, November 25
The Centre's new rehabilitation policy intended to discourage the acquisition of agricultural land for non-farming purposes and for setting up a commission to look into resettlement aspects has come up for criticism from the People's Movement.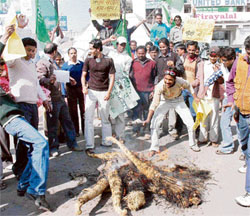 Activists of the Jharkhand Adhikar Manch burn an effigy of Prime Minister and Assam Chief Minister in protest against Saturday's violence between locals and members of the Assam Tea Tribe Students Association in Ranchi on Sunday. — PTI
N-deal
Much-awaited debate this week
New Delhi, November 25
The much-awaited discussion on the Indo-US nuclear deal is scheduled to take place in the Lok Sabha this week, which is likely to see BJP and Left parties on the same side in attacking the UPA government.
Kalam urges teachers to impart moral education
Bhopal, November 25
Asking teachers to impart "education with human values" to students, former President A P J Abdul Kalam today said moral science should be taught in schools once in a week to inculcate values of love and compassion.
Eco-friendly legless amphibian discovered
New Delhi, November 25
Zoologists claimed to have discovered a new species of legless amphibian in northern Karnataka which vacates its marshy habitat at the slightest hint of pollution.
Patil congratulates Dola, Kamlesh
New Delhi, November 25
President Pratibha Devisingh Patil today congratulated Kamlesh Sharma on his election as Secretary General of the Commonwealth.
Gowda ignores Prakash outbursts
Bangalore, November 25
Janata Dal (S) supremo H.D. Deve Gowda today chose to ignore the "ante of revolt" upped again by rebel leader M.P. Prakash and said "any leader is free to come into or go out of the party."
150 agitating doctors sacked
Guwahati, November 25
The Assam government today terminated 150 junior doctors working in Guwahati Medical College Hospital (GMCH) on charges of blackmailing the government and putting lives of patients in danger and arrested over 100 agitating junior doctors.
Uttarakhand govt directive to depts
Dehra Dun, November 25
The state government has asked government departments to invite elected representatives either to preside over or as chief guest instead of bureaucrats at public functions to be organized by them.
Rlys official asked to explain denial of pension benefits
New Delhi, November 25
The Central Information Commission (CIC) has directed the Central Public Information Officer (CPIO) and the Divisional Railway Manager (DRM), Allahabad, to spell out the grounds for denying pension benefits to a woman whose late husband worked with the North Central Railway.
Gandhi's charkha goes hi-fi
New Delhi, November 25
Light, action and entertainment! The hand-cranked spinning wheel, popularised by the father of the nation Mahatma Gandhi, has now been given an electronic tweak to transform it into a hi-tech gadget that not only produces yarn but also light a bulb on demand and is can even power a transistor radio.
Bihar govt publishes 'report card' on 2nd anniversary
Patna, November 25
The Bihar government yesterday published a comprehensive analytical 'Report Card-2007', highlighting its achievements during the past two years. The 'Two years of Development with Justice', a 36-page booklet provides a detailed account of the performance of every department of the coalition government in different areas since it assumed office on this day exactly two years ago.
Political violence on the rise in Tamil Nadu
Chennai, November 25
Tamil Nadu Chief Minister M. Karunaidhi has come down heavily on the police due to the sudden rise in cases of political violence in Tamil Nadu, and instructed them to intensify their vigil and curb anti-social activities irrespective of political affiliations.
Woman bites sub-inspector
Vellore, November 25
A differently-abled woman attacked police officials and bit one of them when they had gone to arrest her at night without lady personnel, for allegedly selling illicit liquor at Vaniyambadi in the district.
Children suffering from insomnia in Nandigram
Nandigram, November 25
The long drawn violent events in the area have robbed traumatised children of sleep, who toss and turn at night and often wake up sobbing.
ULFA peeved at Naga group's campaign
Guwahati, November 25
The United Liberation Front of Asom (ULFA) has fired a broadside at the Naga International Support Centre (NISC), a human rights organisation that supports many demands of the Naga rebel group NSCN-IM, for being part of 'anti-ULFA propaganda' sponsored by Indian security forces and agencies.
Special commandos deployed at Sabarimala
Sabarimala, November 25
A 10-member team of special commandos has been deployed at Sabarimala temple as part of increased security arrangements in the hill shrine, where the main pilgrimage season is now underway.



Videos
Back to nature.
(56k)
Fishing in the desert.
(56k)
SRK 'sexiest' Asian.
(56k)
Celebrating childhood.
(56k)
Is Saawariya really a flop?
(56k)