Calculated move
Usha Albuquerque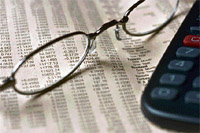 Accountancy is one career where you can never be in need of a job. Every organisation, large or small, whatever the business, good or bad, requires accountants. All transactions need to be reported, budgets made and analysed and financial reports generated. As the demand for financial information increases with the emergence of a global economy, the field grows larger. While chartered accountants are mainly required for auditing, tax planning and management, there is also a need for general accountants, who handle the day-to-day financial working of an organisation.



Careercature
Sandeep Joshi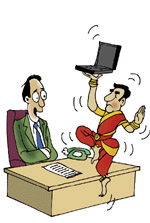 Can you give a demonstration of your professional skills?

Not much of a goal
31 pc Indian youth prefer sports as a career
India may be a nation of sports aficionados but when it comes to making a career in the field less than a third of its urban youth are willing to make a living out of it, a study by Assocham says. About 31 per cent of the youth, mainly from Delhi, Punjab, Haryana, Uttar Pradesh, Maharashtra and Tamil Nadu, polled in a survey by Assocham, prefer a career in sports but only in high-earning games like cricket, tennis, hockey and shooting. However, over 72 per cent youth in the rural and tribal areas of Orissa, Punjab, Chhattisgarh, Haryana, Jharkhand, Kerala, Goa, North-Eastern states and Uttarakhand prefer sports as a career since most of them get jobs in the Railways, state government departments, PSUs and corporate houses, it says.

Reality cheque
Retaining skilled manpower is a real challenge for banks, says a new report
The Indian banking sector is faced with the dual challenge of retaining talent and achieving enhanced risk management practices, which need to be tackled urgently, a McKinsey report said in Mumbai recently. "Risk management by Indian banks largely focuses on regulatory compliance. Although Indian banks recognise the need for sophisticated risk management practices, they are unable to devise such practices in the absence of customised limit structures suited to their balance sheets," the report said.

Bits & bytes
IIM-L placements see wider profiles
THE IIM-Lucknow has announced the completion of its summer placements. All the 285 students of various courses were lapped up by corporates within no time. In all, 424 offers were made to the students. The placements saw the students with prior work experience getting the choicest of jobs. This year saw a record of 424 offers as compared to 391 last year.

Career Hotline
Pervin Malhotra
Talent on trial
Q What is clinical research? What are the career prospects in this field?