Rain Drained
Harrowing time for commuters
Amritsar, November 30
The late-night showers that lashed the city on Thursday resulted in water logging in different parts of the city and highlighted the faulty drainage system. The worst affected was the busy Batala Road and commuters had a tough time negotiating potholes while wading through water on long stretches which needed urgent repair.
Waterlogging after late-night showers gave commuters a harrowing time on Friday. — Photo by Rajiv Sharma
Manuscripts highlight Punjab history
Amritsar, November 30
An exhibition of books, rare manuscripts and photographs relating to Sikhism, Sikh Gurus, history and freedom fighters of Punjab and other martyrs including publications on Shaheed Bhagat Singh arranged by Bhai Gurdas Library of the Guru Nanak Dev University, on the third International conference on "Sharing wisdom : In case of love and forgiveness", would remain open till December 6.
ISKCON temple to spruce up facilities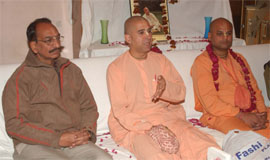 Amritsar, November 30
The International ISKCON Temple in Lakshmansar Chowk in the walled city is being reconstructed to provide modern facilities to its devotees coming from various parts of the country and abroad. The two temples to be constructed, at a cost of around Rs 4 to 5 crore and having an area of around 2,000 square yards, would include an administrative office cum Iskcon guest house.
Temple in charge Swami Inderanuj addresses the mediapersons in Amritsar on Friday. — A Tribune photograph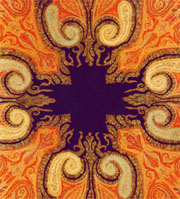 She swears by her shawls
Amritsar, November 30
Even when the sun turns cruel, Aditi Desai's obsession for shawls does not melt away. Her vast collection boasts of shawls from Kashmir and different parts of Europe. An exhibition of her kani (jamawar), paisley and new Kashmiri and Najibabadi embroidered shawls has been put up at a shopping complex in Ranjit Avenue in collaboration with FabIndia. Desai has the privilege of exhibiting her collection at private exhibitions, Cosmopolitan Club and at the Museum of Asian Art in San Francisco.
'Disability due to arthritis on rise'
Amritsar, November 30
Arthritis is emerging as one of the biggest causes of disability among the aged and more than seven crore people in India are suffering from the ailment. With the increasing life span the problem is likely to become more prevalent in people above 70 years.
AI to set up engineering base at airport
Amritsar, November 30
Air India has decided to set up an engineering base here in view of delays in flights due to foggy conditions. This will save time taken in seeking clearance from the airline's Delhi office before flying long-distance flights in low-visibility conditions.
Nine of two families booked for dowry torture
Tarn Taran, November 30
Nine members of two different families have been booked for dowry torture by the Bhikhiwind police. According to police sources, on the statement of Rajwinder Kaur, daughter of Kashmir Singh of Lakhna Tapa village, a dowry case was registered against her husband Kanwaljit, resident of Sursingh village and in-laws. The other four accused have been identified as Kashmir Singh, Jasbir Kaur, Balbir Singh and his wife Baljit Kaur.
Seminar on AIDS
Amritsar, November 30
To spread awareness about the rights of AIDS patients, a seminar will be organised at Khalsa College (girls) on December 1 at 11.30 am.