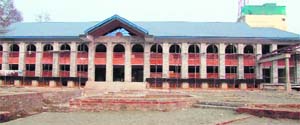 Peril in paradise
'If there is paradise on earth it is here', said a poet about Kashmir and Srinagar surely is the jewel in the crown of this state. Pristine charm and serene scenery have been the perennial appeals of this city. Ironically, while for tourists the city is a picture-perfect destination, residents have to cope with the other, not so beautiful, side of the picture, says Ehsan Fazili
The summer capital of Jammu and Kashmir and queen of Kashmir's tourist destinations is not untouched by the damaging effects of burgeoning population and limited resources. The city is plagued by haphazard growth and lack of basic amenities.
Master Plan keeps hope alive
To overcome these problems the government has already set into motion the second Master Plan 2000-2021 with a view to regulate systematic planned growth of the city in a "comprehensive and sustainable manner".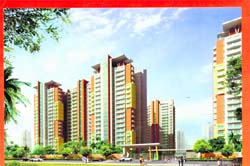 Faridabad
New favourite of developers
After the announcement of extension of Delhi-Metro link till Faridabad, development of 135 km Kundli-Manesar-Palwal Expressway, setting up of IT and ITES Park, Bio-Technology Park, Faridabad has become the centre of attraction for realtors, says S. Satyanarayanan
With real estate development in the NCR region touching a new high, Faridabad is fast emerging as a growing satellite town, with real estate developers investing heavily both in commercial as well as residential projects.
Global biggies eye India's realty sector
India's booming real estate industry, growing at a scorching 30 per cent and estimated to touch $ 60 billion by 2010, has caught the fancy of global realtors and investors who have pumped in or are looking to invest heavily in the sector.
Buzz on Bourses
Alliance to build lifestyle villas in Hyderabad
Hyderabad: Bangalore-based Alliance Group has announced its entry into the city of Nizams by setting up of a Singapore lifestyle villa project, Inner Circle, at Shamirpet, for a total investment of Rs 480 crore. Inner Circle will have 350 luxury villas designed by Asia's leading architectural firm, Surbana of Singapore, Alliance Group chairman and MD Manoj Namburu told reporters in Hyderabad.
TAX tips
Co-borrower not eligible for rebate on home loan
Q. Me and my father are Haryana government employees. We have a 10 marla plot in HUDA sector on which my father has taken a housing loan of Rs 12 lakh from SBI, in which I am also a co- borrower. The repayment of the above mentioned loan started in April 2007. The plot is in the name of my father. First name in the loan is also of my father. But there is no demarcation i.e. no share of 50 per cent. Both of us are loanees.
GRound REALTY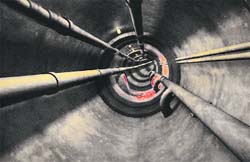 Piped perfection
Follow these guidelines for laying of pipes and enjoy a hassle-free sanitary system, says Jagvir Goyal
For laying sanitary and drainage network either two-pipe or one-pipe system is followed as per the choice of the user. Single pipe system is cost effective but causes maintenance problems. Therefore, it is better to stick to the two-pipe system. All waste water from wash basins, sinks and floors has to be taken to floor traps (FT).