Grief of a nation
Himmat Singh Gill
The Ministry of Special Cases
by Nathan Englander. Faber and Faber.
Pages 339. Rs 695.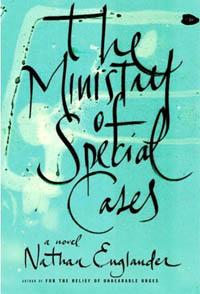 It is a bad period in the history of Argentina that Nathan sets his first novel in. In these hard times, when a military coup has just taken place and those without an identity card are picked up and disappear without a trace, Kaddish Poznan earns a living in Buenos Aires visiting cemeteries in the dead of night along with his son, Pato, where both (the former willingly and the latter most unwillingly) chip off from tombstones the names and any visible links of the disreputable ancestry of those who today are the rich and affluent and who do not want to own up their dead.
For Kaddish, the job is as good as it lasts, though for Lillian, the wife, who works as an insurance agent, this is not much of a profession for the husband whom she does not respect very much. The rich pay well for a dirty job well done. And this is what brings food to the table, especially when Pato is not up to much, roaming the streets with his loud music and hippy friends who read fiery, revolutionary literature and pretend that they will rid the country of the corrupt Generals and its military.
The downslide for the family, however, starts when one day Pato is picked up in the streets when he cannot produce his identity card, and later on totally "disappears" without any trace or record in government files of having even ever existed. And that when the parents start making the rounds of the most secretive Ministry of Special Cases, which handles such sensitive matters, in a country where "kidnap and ransom is our gross domestic product".
There are a few who can help in recovering the boy, but good money is required to move those in power. Dr Mazursky is a facial surgeon who once he had returned a favour by restructuring the noses of the Kaddish clan. However, this in turn now creates problems of identity recognition for the son that they are out looking for. The General can help but will not. In the end, when all is lost Kaddish even resorts to some drastic measures where indirect pressure can be put to energise the General to do something in the matter. But the one single contact, a navigator that Kaddish is provided with by his sources, and who for a living pushes out of the plane into the river below the naked and drugged detainees who now are nameless, is of little hope as he spells out clearly for Kaddish's benefit that there is little chance of survival. "I've killed many. I may have murdered your son along the way".
Kaddish then devises his own plan for Pato's recovery and digs up someone else whom he now wishes to pass off as Pato and so ready for a decent burial as per custom. But Lillian sees through the plot and tells the gravedigger to go away for good and dispose of the alien bones. After all a mother can always tell the bones of her son. In the end, Kaddish is never able to help in spite of all his efforts, and Lillian sits "down and settled in. She set her gaze on the corner Pato would come around. And as she did every night, Lillian thought, he will turn". What Kaddish does with the bones of a long gone VIP, is of course another story and best left for the reader to find out about.
This is a powerful novel of hope and despair, where the unhappy and the wretched will clutch at anything that near resembles an outside chance. The stark imagery of the corrupt where relations disown their very own within minutes, the abuse of human rights of those who are powerless to speak up, and the sheer helplessness of a society caught in the whirlwind of power and sin, mark out this novel to be a noted piece of literature.
Dark and funny on many a page, Englander has a telling message for any nation that might have run amuck within its own circle of folly and short sightedness. Good fiction is often heavily laced with truth and reality, and if the suffering of the Jews is the main text, then we are invariably in for a great read.