Back of the book
Sovereignty, Power, Control: Politics in the States of Western India
by John McLeod. Decent Books. Pages 306. Rs 620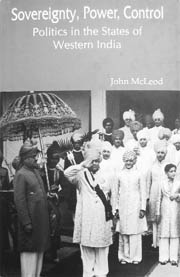 In Sovereignty, Power, Control, John McLeod uses the princely states of the Western India States Agency (now in Gujarat) as a case study to examine the triangular relationship among the Indian princes, the politicians of the states' people's movements, and the British. He argues that the princes were motivated by the desire to safeguard their sovereignty; the politicians by a quest for a share in power in the states; and the British by a policy of maintaining control.
McLeod first analyses the conflict among the parties over the channels of communication between the princes and the British, the collection of duty on imports at state ports, and the existence of numerous small states in Gujarat. He then turns to British interference in the princes' affairs over the issues of minority administration, maladministration, and succession to princely thrones. Finally, he explores the honours system of titles and salutes, which played a central role in princely India. John McLeod was born in Toronto, Canada, and in 1993 received his Ph.D in Indian history from the University of Toronto. In 1995, he joined the University of Louisville, USA, where he is now Chair of the Department of History. Besides Sovereignty, Power, Control, he is the author of The History of India and (with Kenneth Robbins) of African Elites in India.
End Games
by Michael Dibdin. Faber and Faber. Pages 335. £4.99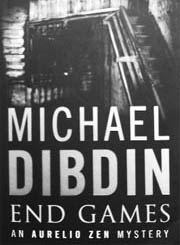 End Games brings Italian police detective Aurelio Zen to remote Calabria, at the toe of the Italian boot, on a routine assignment. But what he encounters there is anything but routine. Beneath the surface of a tight-knit traditional community — with plenty of secrets and loyalties that go back centuries — violent forces are at work.
Zen is determined to find a way to penetrate the code of silence and uncover the truth behind a brutal murder, but his mission is complicated by another secret which has drawn strangers from the other side of the world on a hunt for buried treasure launched by a single-minded player with millions to spend pursuing his bizarre and deadly obsession.
Michael Dibdin has crafted a suspenseful, action-packed thriller that takes the reader on a journey deep into a proud and ancient culture and the dark corners of the human heart.