Romantic reminiscences
Romancing with Life: An Autobiography
by Dev Anand. Penguin Books India. Pages 438. Price 695.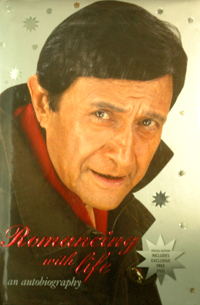 The image of Dev Anand, for me, always coalesces with the image of 'Raju' of Guide who with his magical chant brings rain and succour to a parched famine-struck terrain. The role of 'Raju', incidentally also won critical acclaim for Dev Anand who hitherto had been just a romantic hero with a 'puff', stylised dialogue delivery and a winsome smile. But this is not his only claim to fame. This Gregory Peck look-alike has given some endearing performances in films like Baazi, Jaal, Jewel Thief, Tere Ghar ke Samne et al.
This bright and ageless star on the Indian film firmament has also directed some unusual films like Hare Rama Hare Krishna, Des Pardes, Hum Naunjawan and Censor, boldly analysing divergent social issues that were spoken of only in whispers. Six decades of cinema have not dampened the enthusiasm and spirits of this creator-director-actor who even at 84 is running full steam ahead.
Romancing with Life, the much-awaited autobiography of Dev Anand, gives us a glimpse of 'Dev-aan', the person behind the public persona of the legendary film star. A montage of reminiscences strung together in a beguiling pattern, the autobiography is written in a simple conversational style that creates an empathetic bond between Dev Anand and the readers. The reader sits with Dev as his father teaches him the 'Gayatri Mantra', counts the stars with the future star, lying on a charpoy on the terrace in Gurdaspur, blushes with a youthful Dev as he murmurs a shy lovelorn hello to 'Usha' in college and walks the footpaths with 'DD' in Bombay waiting for the big 'break'. The reader feels Dev's dejection as he sifts through war correspondence for a living and later is elated at the adulation that Dev Anand receives after Ziddi, a film that made him a romantic hero. But there is more to the 'larger-than-life-hero' than meets the eye. Here is a human being who is anguished at the death of his dear brother 'Goldilocks', and his much-loved friend Guru Dutt. Here is a man who hates the brutality of war and is forever in search of "that special ray of sunshine that makes life worth living".
As we travel down memory lane with Dev Anand, some reminiscences, however, smack of narcissism and seem to find place in the autobiography for no earthly reason except to highlight a star's romantic proclivities. But Dev Anand has defended himself against the charge of self-obsession stating with child-like candor that he is a "deity to his millions of fans" and his memoir is merely to "honor that image". The star ingenuously says, "My best moments with myself are when I am in front of my mirror in the bathroom."
And yet, despite the candid disclosures, one is somewhat miffed because the focus of the book is essentially on the romantic escapades of a star rather than the evolution of an actor and director. An interesting read nevertheless.