hollywood hues
Manufactured truth
Robert Redford's Lions for Lambs exposes the duplicitous agenda and machinations of a supposedly democratic country, writes Ervell E. Menezes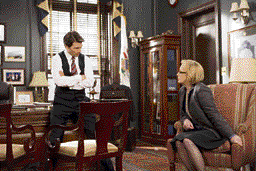 Tom Cruise and Meryl Streep in Lions for Lambs
We're fighting a brand new evil," Senator Jasper Irving (Tom Cruise) tells TV journalist Janine Roth (Meryl Streep) referring to the war on terror. But the United States has always found an excuse to go to war. Wasn't the bogey of Communism a good enough excuse for decades? In Lions for Lambs, Robert Redford uses the war as a catalyst for three personal stories which bring out the myths and realities and exposes the duplicitous agenda and machinations of a country supposed to be a bastion of democracy.
Under the guise of giving Janine a bombshell of a story of a new war strategy, the Senator is using it as a lubricant to get him into the White House. But would Janine, who was a student protester against the Vietnam War in 1968, fall for this gambit? To what extent does one have to go in order to get a scoop? Or could it be a plant?
At West Coast university, a once idealistic professor Dr Stephen Malley (Robert Redford) confronts a privileged but blas`E9 student Todd Hayes (Andrew Garfield) and tries to get him to fulfil his enormous potential. And across the globe in the heat of battle in Afghanistan, two of Dr Malley's former students Arian (Derek Luke) and Ernest (Michael Pena) are faced with a life-and-death situation fanned by misplaced idealism.
It's all happening out there in this dialogue-heavy human drama. Mathew Michael Carnahan's screenplay is as today as tomorrow's newspaper and Iraq, nuclear Iran and war-torn Afghanistan are all grist for the American propaganda mill. It is a subject very much up director Redford's street and moving in along three fronts contributes to the riveting action. "We're going to put our foot on their throats," says the Senator in one of the many bravados being liberally sprinkled like sauce for those who'll have it.
There is a quote of a German general saying of England: "Nowhere else have there been such lions led by such lambs," and hence the title. But the three incidents are so closely knit and the fa`E7ade of deceit so glibly put across that it seems impossible to define terms like "risk" or "courage" or even "engagement." Where do we move from here, the film seems to ask the audience. But are there any answers?
In typical Redford manner Lions for Lambs gives one a lucid picture of post-9/11 United States and with scalpel-like precision exposes its underbelly and what masquerades as democracy. Tom Cruise is his usual intense self and Meryl Streep is as much at home as a TV journalist as she was a fashion editor in The Devil Wears Prada. Only here it is a weightier issue and a more emotional performance. Robert Redford's Prof Malley is at best adequate and young, Andrew Garfield gives evidence of the talent to come but it is Redford's eye view of the new America that is the ultimate winner — incisive, revealing and thought-provoking. Not to be missed.