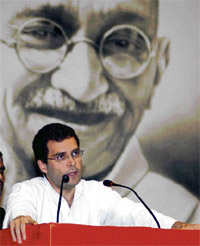 The new-look Neta
Anyone who joins the Congress has to ostensibly abide by the 10 commandments. When Rahul Gandhi voiced the need to do away with some of the practices such as sporting khadi and abstaining from alcohol in an effort to bring the party more in tune with the times, it triggered off a debate. Anita Katyal looks at how the suggested image makeover has gone down with the rank and file of the party

They have often been described as the Congress party's ten commandments. These are the preconditions for enrolment of new members which were enshrined in the constitution of the 120-year-old Congress when the grand old party was fighting for India's freedom from British rule.

In tune with the times
Many young netas from the region feel that the archaic guidelines need to be junked, report Naveen Garewal, Shubhadeep Choudhry & Geetanjali Gayatri
Warm up to kangri
The kangri keeps Kashmiris snug during the winters, says Rajesh Bhat
Ali Mohd Kumhar's family is busy moulding small round earthen pots for livelihood. He and his family are among hundreds of such artisans in the Kashmir Valley who are carrying forward their forefather's legacy of fashioning earthen pots called kanger. The kanger is used by the Kashmiris as firepots beneath their traditional dresses to keep the chill at bay. It is normally kept inside the phiren, the Kashmiri cloak, or inside a blanket. If a person is wearing a jacket, it may be used as a hand-warmer.
Art attack
Uma Nair
Tyeb Mehta's untitled work of an androgynous falling figure is set to triumph at Saffronart's winter online auction of modern India art works. The auction, which will take place December 5 and 6 on www.saffronart.com, is the 19th in the series by leading online modern art auctioneer Saffronart and features 110 works by 36 artists.
Dogged by misery
Lt Gen Baljit Singh (retd) writes that stray dogs should be treated with compassion
While humans and animals began their journey together, yet in due course of time, animals like dogs, cats and house sparrows have been rendered homeless. Just as homeless human beings turn to begging, stealing and plundering for survival so do the homeless animals out of similar compulsions.
The heart of Poland
K.J.S. Chatrath comes back richer after a visit to the Polish capital Warsaw, steeped in culture and history
As the one and a half hours' Finnair flight from Helsinki to Warsaw was readying to touch Warsaw, the hostess told us that we were about to land at the Frederic Chopin airport.


I want to sing in all languages: Ishmeet
Expectedly, winner of Amul Star Voice of India contest Ishmeet Singh is on cloud nine but this Ludhiana lad feels his "journey has just started". Overnight this student of B.Com Part I has turned into a celebrity and he realises that his life may never be the same. In a telephonic chat with The Tribune from Mumbai, he happily not only acknowledged but also expressed gratitude to the immense support that people of Punjab lent him, leading to his victory.
Suspense at its best
The characters play their part and the plot is deftly and sensitively handled, says Ervell E. Menezes of IFFI's Romanian entry 4 Months, 3 Weeks & 2 Days
This years Golden Palm winner 4 Months, 3 Weeks & 2 Days (Romania) is a brilliant story of two women set against the backdrop of that country under Communist rule in the 1980s. Female bonding has become an important topic for cinema after women's lib and this story could not have been better crafted.
Second coming
The theme of reincarnation is oft repeated in Hindi films, says M.L. Dhawan, while Vikramdeep Johal looks at Hollywood films which have experimented with the subject in weird ways
'I watched Hema Malini for the 1970s look'
Shweta Thakur
Thrilled with the rave reviews her performance in Om Shanti Om has won, budding actress Deepika Padukone says she prepared for the 1970s era character by watching films starring Hema Malini and Helen.


The goddess in our women
Any woman who displays extraordinary strength and is totally unafraid of men begins to be treated as a manifestation of goddess Durga. Indira Gandhi and Kiran Bedi have been referred to as Durga at some point of time, writes Aditi Bhaduri
FASHION
Bitten by the jewellery bug
Insect jewellery is made of real insects dried out and kept in plastic pouches, obtained from all around the world, mainly China. The Brazilian butterfly, with its brilliantly coloured wings, has been made into jewellery for ages, says Lajwanti D'Cruz
This is 'shocking'
Believe it or not, a priest in UP's Lalitpur district has developed a bizarre liking for electric shocks. He cannot do without his daily dose for a sound sleep. Baba Mangal Das, the priest of Ram Janaki temple at Bamhorisar village in Lalitpur district, is addicted to this weird habit for three years. He strangely claims to have never faced any adverse effect.