The new-look Neta
Anyone who joins the Congress has to ostensibly abide by the 10 commandments. When Rahul Gandhi voiced the need to do away with some of the practices such as sporting khadi and abstaining from alcohol in an effort to bring the party more in tune with the times, it triggered off a debate. Anita Katyal looks at how the suggested image makeover has gone down with the rank and file of the party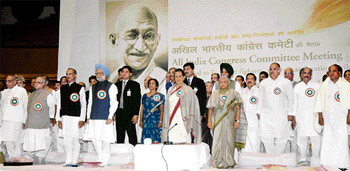 Will the party let the winds of change blow? Delegates at the recent AICC session in Delhi.

They have often been described as the Congress partyís ten commandments. These are the preconditions for enrolment of new members which were enshrined in the constitution of the 120-year-old Congress when the grand old party was fighting for Indiaís freedom from British rule. Sixty years after Independence, the doís and doníts remain unchanged. Viewed as a critical component of the Constitution, the ten commandments, it appears, are sacrosanct. Itís a different matter that large sections of party members have barely read the prescribed doís and doníts.
Even if Congressmen have glanced through the one-page declaration which they are required to sign on joining the party, these are promptly forgotten and consigned to the archives. And, of course, they are flouted routinely and with impunity.
According to the conditions, Congressmen are required to wear khadi, refrain from imbibing alcohol, perform minimum hours of manual labour, should not possess land beyond the ceiling laws and believe in secularism and untouchability.
And yet any suggestion that these preconditions be amended is met with stiff opposition. Congress seniors and many newcomers believe that these are not mere preconditions for joining the party but reflect its core values. "Every party has its identity...the Congress has certain norms which were laid down by Gandhi and were born out of the freedom struggle..... how can the Congress forget them," asks the Parliamentary Affairs Minister Priyaranjan Dasmunsi vehemently.
The 10-point declaration for members
I am of the age of 21 years and above

I am a habitual wearer of certified khadi

I abstain from alcoholic drinks and intoxicant drugs

I neither believe in nor practise untouchability in any shape of form or undertake to work for its removal

I believe in an integrated society without distinction of religion or caste.

I undertake to perform minimum tasks, including manual labour, as may be prescribed by the CWC.

I do not own property in excess of ceiling laws

I subscribe to and work for promoting the principles of secularism, socialism democracy. I shall not, directly or indirectly, openly or otherwise, adversely criticise the accepted policies and programme of the party, except through party forums

I shall subscribe to the periodicals approved by the AICC

I shall abide by the conditions laid down and rules framed under the Constitution of the Indian National Congress.
These "ten commandments" were recently in the spotlight when the Nehru-Gandhi scion Rahul Gandhi tentatively suggested that these be made more flexible. Participating in his first meeting of the partyís working committee after his induction as AICC General Secretary, Gandhi junior wondered if these ought to be amended. Predictably, Rahul Gandhiís passing remarks have spawned a lively debate in the party.
Questions are being asked about the utility of retaining some of these clauses when it is well-known that these are not being followed. Coming up against a wall of opposition, more fundamental issues are being raised about the partyís resistance to change, its unwillingness to evolve and adapt to changing times and its inability to chart a new course.
While nobody in the party denies that the emphasis on secularism and untouchability cannot and should not be diluted, there is a growing view that other conditions like wearing khadi, taking liquor or doing manual labour can be made more flexibile. How many Congressmen, it is being asked, donít drink alcohol and how many wear khadi all the time or how many have actually done manual labour? "Do you seriously think that Manmohan Singh and Arjun Singh have performed manual labour? There is an element of hypocrisy in this. In any case, how many party men actually read the party constitution or view it with any seriousness," asks a senior Congress leader, who did not wish to be quoted.
Speaking in the same vein, a young Lok Sabha MP, known to be close to Rahul Gandhi, says, "People wearing khadi do not necessarily acquire saintly qualities. On the other hand, it does not mean that those who donít wear khadi are necessarily corrupt ....as with other people you cannot judge a politician by looking at their clothes or their drinking habits."
Younger Congress leaders admit that these policies often do not reflect present realities. Alcohol may have been taboo 60 years ago but it is not the case any longer. A Congressman is required to adopt a simple lifestyle and shun any display of wealth. And yet, the most ostentatious weddings and functions are being held by politicians.
Similarly, the declaration lays down that a Congress member will not possess property in excess of land ceiling laws and yet there are any number of party members, who have manipulated the laws to enable them to retain control over their massive landholdings.
If the purpose here was to ensure equitable distribution of land and avoid unnecessary acquisition of wealth , it has clearly been defeated. Besides, a liberalised economy has brought in new elements which were obviously not on the radar screen of those who wrote the party constitution. Today, a Congress member need not own huge tracts of land or worry about the land ceiling laws to possess a huge fortune. "These days you can make millions without owning any property. You can do so by playing the stock market," a senior Congress leader from Maharashtra pointed out.
As long as a party member has a clean image and is conducting his business according to the law, possession of wealth should not be held against him, he argues.
But the subdued voices in the Congress clamouring for change are being virtually drowned out by those who see no merit in amending these provisions in the party constitution. On the contrary, they make a strong case for retaining these conditions. "Admittedly, many younger members are no longer wearing khadi but can a party like the Congress, given its association with the freedom struggle and Gandhi, tell its members that they should forget khadi altogether," asks Kumari Selja, Minister for Housing and Urban Poverty Alleviation, adding passionately, "If I am unable to live up to these ideals, itís a reflection on me, itís my failing."
AICC general secretary Janardan Dwivedi is equally passionate on this issue. He is quick to point out that khadi is not just about wearing the homespun fabric but reflects a belief in Gandhian ideals. It is also a symbol of simplicity and austerity.
Today, when there is no shame in the open display of wealth, and people are straying away from Gandhian values, it is all the more important to remind Congress members about where they come from. "These are ideals which all Congress members should aspire to adopt. If these are being flouted, it doesnít mean we should not retain them in the constitution," he adds angrily.
Madhu Yakshi Gauda, a Congress MP from Andhra Pradesh who is known for his proximity to Rahul Gandhi, argues on the same lines. " Just because people commit crimes, does it mean we should do away with laws," he asks.
Does this mean, the grand old party continues to live in the past and is unwilling to face up to changing realities and fresh challenges. And is the party losing its earlier sheen precisely because of this resistance to adopt a new outlook and its inability to draw in new constituencies and retain its old ones? "No, not all," says Dasmunsi," Our party has kept up with the times. Donít forget Rajiv Gandhi gave the party a modern outlook. Then, we have changed our economic policies. But we cannot afford to compromise on our core values like secularism and social justice."