'I watched Hema Malini for the 1970s look'
Shweta Thakur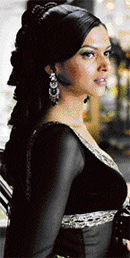 Deepika Padukone in Om Shanti Om
Thrilled with the rave reviews her performance in Om Shanti Om has won, budding actress Deepika Padukone says she prepared for the 1970s era character by watching films starring Hema Malini and Helen.
"I watched a lot of films starring Hema Malini and Helen, for instance Jewel Thief and Seeta Aur Geeta, to notice how they were made." "In the films of that time, everything was over the top —emotions were exaggerated though I enjoy the originality of the 1970s era films. The actors were more graceful and their body language was completely different from today's actors," Deepika said.
"I don't count myself as a big star yet, there is a long way for me to go. I think my father handled success very well and it is in my genes to be humble," the daughter of ace badminton player Prakash Padukone said.
The doe-eyed actress has struck fame with her debut film and is overjoyed.
"Honestly, when we were shooting for the film I had never thought that it would be a huge hit. I just gave my 100 per cent to it.
"Also, when you are working for a film you feel you have given it your best. However, when you later see your work you find so many things that need improvement. I think it is just the start," said a candid Deepika. "The 1960s-1970s fashion is in vogue again. I am completely bowled over by Farah, who dared to use that look in her film. She has portrayed it so well."
— IANS
Ticket to Hollywood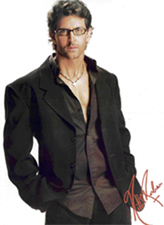 Hrithik Roshan's Hollywood debut may happen soon. He has been approached to play the lead in Stephan Gaghan's next film, Kafir.
If all goes well Hrithik Roshan is all set to make his Hollywood debut. The actor has cracked an exclusive deal with Hollywood agency Brillstein Gray.
According to sources, director Stephen Gaghan, writer of films like Abandon (2002) and the George Clooney-Matt Damon starrer Syriana (2005), has through Brillstein Gray, approached Hrithik Roshan for Kafir.
Hrithik's father, Rakesh Roshan, too confirmed the development. "Yes, it is true that Hrithik has appointed Brillstein Gray as his official agency for his international films and he has been approached by Stephen Gaghan for a film" said Roshan. — MF